Juelz Santana's world is completely turned upside down since he was arrested for leaving behind two bags, one with a Derringer .38-caliber handgun, his driver's license and unidentified controlled substance.
The worst part besides leaving his identification behind was that he was seen exiting the airport in a taxi. #SMH
Fast forward to now, new details have surfaced and according to sources, Juelz Santana has been ordered NOT to live with Kimbella while out on bail? Read for the tea spilling…
Juelz Santana, born LaRon Louis James is currently on house arrest, residing at his mother's home.
Here is the catch, Juelz Santana is out of jail, but he's NOT allowed to live at his girlfriend/baby mama Kimbella, born Kim Vanderhee.  The JasmineBrand broke the news first, that Juelz Santana is out on house arrest living with his mom until his court date.
The residence must be pre-approved by his parole office and he also must install a landline telephone within 10 days. As previously reported, Santana had been in custody since March 12 for allegedly fleeing and leaving a gun and drugs in his luggage at Newark Liberty International Airport. A $500,000 bond was secured by his mother's Englewood home.
He was at Newark Liberty International Airport on March 9 heading to San Francisco, authorities said. A TSA agent (Transportation Security Administration) found a .38-caliber handgun and drugs, and that is when Santana retreated and fled the airport.
Back in March a police report obtained by NorthJersey.com read:
Santana "paced the [TSA checkpoint] area nervously and requested that several individuals screen his bag because he was going to miss his flight." Upon checking the rapper's bag, a TSA agent "identified a suspected firearm," at which time Santana "retreated from the security checkpoint area without his belongings."

He was flying to San Francisco, where he was supposed to perform at The Grand Nightclub.
Kimbella and her Dipset baby daddy share three children together, and the two will have to somehow co-parent while he is on house arrest.
Juelz is NOT letting the judge's orders stand in the way of his relationship with Kimbella. The Dipset rapper took to Instagram posting a photo of himself having a bath with Kimbella and kissing her feet.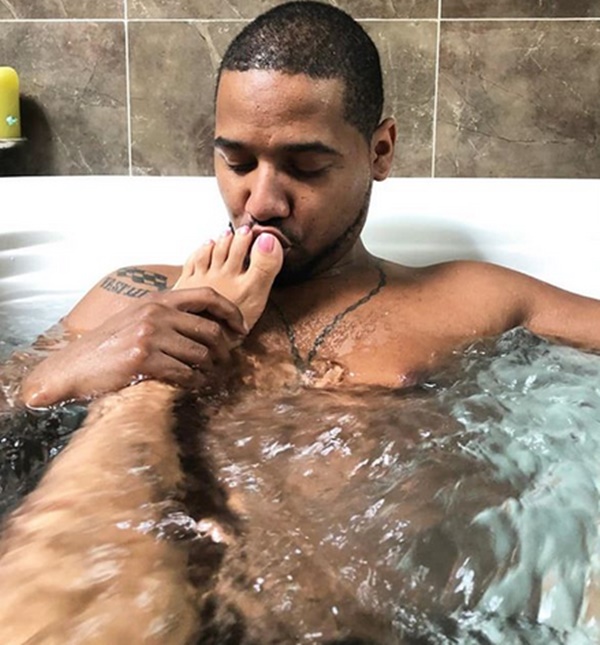 Good Luck Juelz and Kimbella.