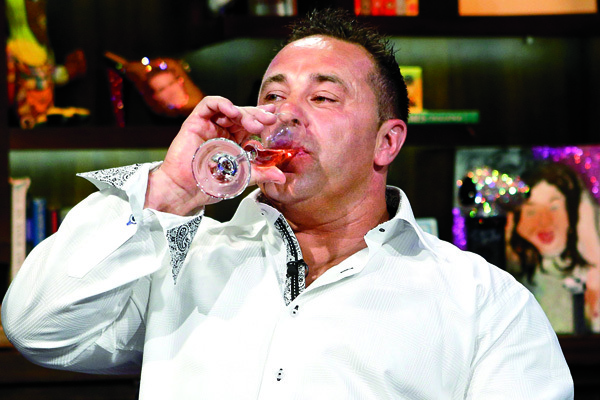 Joe Giudice's Guilt Has Him Drinking Reckless!!!
With Teresa Giudice behind bar and Joe Giudice's Guilt Has Him Drinking Reckless, taking care of the girls, the house and ALL the things Teresa had to do…has turned him to Jack, James and Stolli.
What's like without friends in bottles?
Yes, we're talking alcohol!
Rumor has it Joe Giudice is hitting the bottle and drowning his woes in drinks. CelebNMusic247.com got word via multiple reports that the Real Housewives Of New Jersey star, who feels extremely guilty over his wife Teresa Giudice serving 15 months in prison, has been turning to alcohol to cope, meanwhile supervision of his four daughters has slipped!
[rpi]
Here is what RealityTea is spilling:
Mark Behar, a celebrity security specialist who was hired to follow Joe in Teresa's absence, says Juicy has been wasting hours of his day at the bar, drinking heavily, and puffing on cigars! Maybe he should call ultimate sober companion Brandi Glanville!

The excessive drinking has taken a toll on Joe's appearance and health and now Behar reveals:

"He must have had some money saved because he's always at bars and strip clubs, where he knows the owners and has been going for several years — even before this whole legal mess and Teresa being in jail."

"Joe has gained some noticeable weight and does not look healthy."

This is interesting, because at the couple's sentencing Joe's attorney told the judge Joe has a drinking problem, due to depression, and was drinking 2 – 4 bottles of wine per night to cope with the stress of financial failure, his father's sudden death, and the guilt of committing crimes which placed Teresa and their children in jeopardy.

"I even sat by Joe at a bar that he was at in disguise and undercover and he had no idea that was me and he knows me," the celeb spy insists.

Legally Joe isn't allowed to drive, courtesy of the plea deal he accepted in his false identity case, so at least there's no chance that he'll incur another DUI!

As for where Joe's four daughters are while all of this booze consumption is happening, they are reportedly being watched by Joe's mother and sister! Behar reveals that Joe scarcely supervises the girls. Even worse, some some of the Giudice girls no longer attend school and are instead being homeschooled! Hopefully NOT by Joe!!!!!! I presume he means Gia Giudice, who is embarking on a career as a tween popstar.

"I am mostly concerned about the girls safety and well-being, first and foremost " Behar reveals to the DailyCandidNews. "They are not in any danger, but could be better supervised and looked after by their father if he was around more often."

I want to know who hired Mr. Behar to tail Juicy – Teresa?!

Previous reports have claimed Gia is possibly filming for RHONJ, which I presume to mean Joe is also filming? If so, let's hope Bravo is doing something to intervene, but since they haven't intervened in the past with Joe's misbehavior…

Another interesting RHONJ connection – Mark Behar claims that on July 4th weekend he will be participating in a "Celebrity" Boxing match against Joe Gorga!
Thoughts?