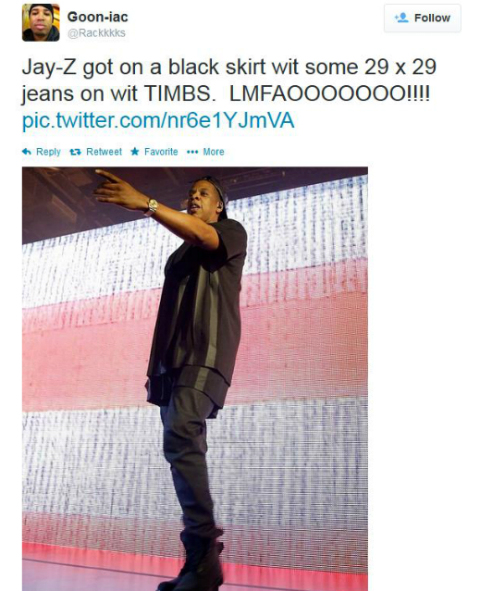 Jay Z SLAMMED for Wearing a Skirt
What looks to be a skirt may actually be a two shirts layered, but Jay Z looks hella foolish wearing this style.
In a post CelebNMusic247.com would like to dub "you're just too old for that look" Jay Z was spotted at SXSW trying to be trendy like his boy Kanye West.
At least Kanye looks good in a leather skirt, but Hov looks like someone's dad trying to be cool. And what makes it worse is Jay stepped on to the stage at the 2014 SXSW festival wearing what looked to be a skirt. Some are claiming that Jay was only wearing an "extended shirt," but his disappointed fans aren't buying it.
The much-talked-about new fashion trend of men wearing skirts over skinny jeans is great if you are looking too old or like your trying too hard, but this is as bad as the Mich Jagar and David Bowie video back in the 80s. Oh those fashion fopas!
Check what twitter-verse is saying about Jay Z wearing a skirt: