Jason Derulo Anaconda Too Much For Instagram!
Apparently, Jason Derulo's "anaconda" is even bigger than fans thought. Oh yes, the mouth-watering sexy underwear pic posted by the singer because the company said it showed "aroused genitalia." Read on…
View this post on Instagram
CelebNMusic247.com wants to report that Instagram is wrong, Jason Derulo is a shower NOT a grower, so his anaconda is NOT aroused.
Apparently, whoever is running Instagram is NOT aware that some men are naturally that big all the time and others increase in size when aroused.
Ladies that is 100% what it is.
Even Jason Derulo stuck it to them by saying he wasn't even fully aroused. He just hangs to the left.
Derulo told TMZ when the website asked him about Instagram's explanation
Bro, I was not aroused.
Though, the 30-year-old admitted he did have "a little semi," but "it was not full arousal."
Jason states:
Arousal looks different. It's a different vibe. When it's fully aroused, it's a different beast.
He makes it clear that his anaconda is a pointer:
It leans more to the front, you feel me? If it's just on the side, and it's just chilling on the side, it's a semi vibe.
Derulo initially described his Hollywood Sausage in the picture as an "anaconda" asking
What animal are you hiding in your pants?
On Wednesday, a spokesperson from Instagram/Facebook Company confirmed to Page Six the platform did remove the late-November post for a violation of its Community Guidelines for sexual activity in that it featured "aroused genitalia."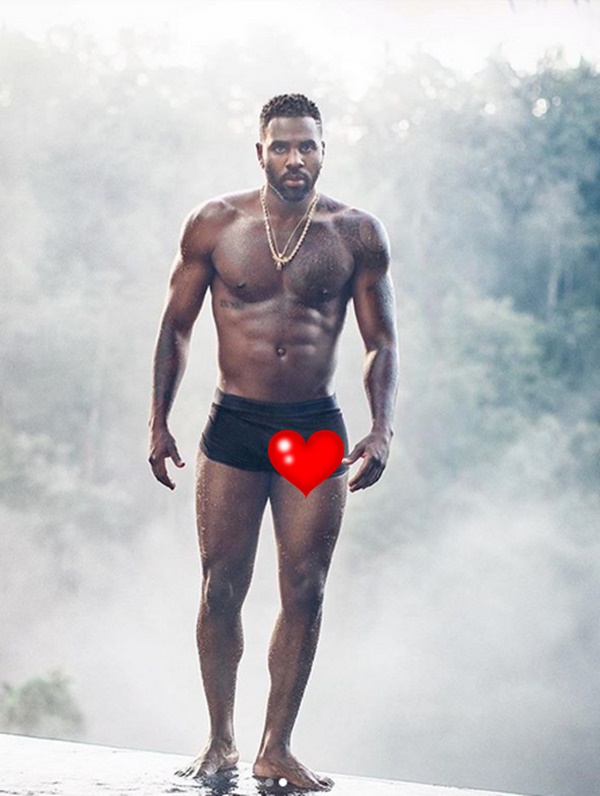 Jason Derulo said he feels the removal of the photo was "discrimination."
He states:
I really do think it's discrimination. I really do … just stop hating on the kid man. Let me live. It's not my fault.
And no, he is single and has no interest in dating anyone seriously.
He recently told The Post:
I've learned that I really don't want to be in a relationship. I don't think it's that time in my life. I'm so focused on my craft and my art, man, that there's very little time to give to somebody at this point in my life. I'm very single — super single.
This is not the first time he was spotted fondling his package. Take a look at these mouth watering pics. Oh Jason, so so nice. Ladies who wants to fondle his package?
Look we are NOT complaining, Jason's mouth-watering anaconda picture is delicious and ladies you know if Jason wan in your room you'd be wanting all of it!