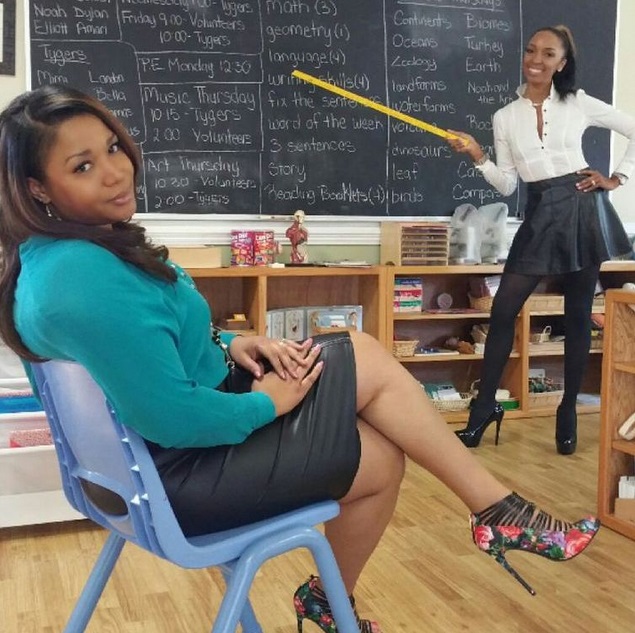 Have You Met The Ladies Of Mother Funders?!?
If you're a Bravo fan the we know you're aware of the newest show to join the Bravo family, Mother Funder$ but have You Met The Ladies Of Mother Funders.
CelebNMusic247.com had the opportunity to have a one on one with the lovely LaShon Thompson who is  the secretary of the local Parent Teacher Organization (PTO) and is a recent addition to the very audacious group of women.
The series is set in the town of Locust Grove, Georgia and follows LaShon Thompson, Shana Koorse, Shayzon Prince, Carla Stephens, Robin Dyke, Amber Bryant, and Amber Coulter.
Bravo's newest series, Mother Funders is a comedic docu-series which takes a look inside the triumphs and trials of one very special Parent Teacher Organization board in Locust Grove, Georgia.
Mother Funders PTO is led by super mom and president, Carla, whose goals are to raise as much money as she can for the town's elementary school, it's a strict regimen of reading, writing, and arithmetic to raise the most funds for the local elementary school. Carla is very driven, meticulous and determined to obtain her goals, but she NEED to keep the momentum going and get her fellow board members to plan, execute, and implement extravagant fundraising events which will rake in the cash and ruffle some feathers along the way.
If you haven't watched the hottest new series in the Bravo family, let us take a minute and let you meet the ladies:

Amber Bryant – was married to a former NFL player Fernando Bryant, Amber Bryant knows how to score touchdowns as the Volunteer Coordinator of the local Parent-Teacher Organization (PTO) in her community. Due to her NFL connections, Amber is well-known in Atlanta's social scene and can make one phone call to raise thousands of dollars.
Stay connected to Amber Bryant:
Although she currently doesn't have a child at local elementary school, Amber has been designated an honorary member due to her commitment for the school and her connections to wealthy donors. Her three-year-old daughter Griffin will eventually attend the school, but always the go-getter. Read more…

Amber Coulter – she is the newest addition of the Locust Grove Parent-Teacher Organization (PTO), volunteer Amber Coulter is getting acquainted with some of the other mothers that live on her block.
With her normal attire consisting of sweat pants and a t-shirt, the self-dubbed "earth mother" is getting adjusted to her new PTO duties that take her away from home.
Note: There is No Social Media for Amber Coulter.
A devoted wife to her husband Roger and mother to their three daughters Desiree, Tristan, and Bailey, Amber hopes to break out of her routine and become a lean, mean, fundraising machine.

Carla Stephens  – She is the President of her Parent-Teacher Organization (PTO) at her son's school and is described as the perfect blend of a Betty Crocker and a drill sergeant who rules with an iron fist.
Stay connected to Carla Stephens:
A doting wife to her husband Jesse of 22 years, and mother to her two sons Evan and Ryan, she is also a businesswoman who runs two successful companies.
Always a go-getter, Carla works tirelessly to raise money and awareness for several organizations that she is passionate about. Read more…
[rpi]

LaShon Thompson – She was born and raised in Atlanta and now resides in the small town of Locust Grove, Georgia. She is the secretary of the local Parent Teacher Organization (PTO) and is a recent addition to the very audacious group.
Stay connected to LaShon Thompson:
In addition being wife to her husband TeShon, she is also mother to her children Ajah, Messiah, Domani, and stepdaughter Niya. She wears many hats including being a "momager" to her kids' acting and music careers, running a successful trucking company, and aspiring to open up her own beauty salon and artist management company. Read more…

Robin Dyke is the Volunteer Coordinator of her local Parent-Teacher Organization (PTO) in Locust Grove, Georgia. Her expertise in fundraising and marketing is a force to be reckoned with and her efforts bring in big checks and big smiles.
Stay connected to Robin Dyke:
A true Southern girl, Robin loves to socialize and enjoys the outdoors. She is wife to her husband Jason and devoted mother to her three children Kassi, Joseph, and Jackson.
Read more…

Shana Koorse – She was formerly on the board of the Parent-Teacher Organization (PTO) but after clashing with fellow board members, decided it would be best if she just remained a volunteer.
Stay connected to Shana Koorse:
In the PTO, Shana is Robin's right hand gal and is often Robin's voice of reason when dealing with the colorful and interesting personalities of their dynamic group.

Shayzon Prince – She is the Vice President of the local Parent-Teacher Organization (PTO) and the Executive Officer of keeping the peace. Although she works full-time as a style expert, makeup artist and developing her lifestyle brand, she manages to devote her spare time to help raise money for her children's school.
Stay connected to Shayzon Prince:
The events she puts on are the talk of the town and with a Rolodex full of influencers and celebrities, the PTO's fundraisers are the place to see and be seen. She has two children, Arlington and London, and has been happily married 15 years to her husband Michael.
Take a look at Mother Funders and see what it's all about with this highlight snippet with Lashon and PTO President Carla Stephens are butting heads over some unapproved signs for the fall fund-raiser.
Watch:
"Mother Funders" which airs on Bravo, Sunday nights at 10/9c.
What do you think?