Melbourne Australia native Hamish Anderson was a breath of fresh blues-rock n roll as he opened the Midway stage at Bottlerock day 2.
Hamish Anderson, 26, got the crowd primed for a day of fun in the sun. Gigi of CelebNMusic247.com had the opportunity to sitdown with Anderson to chop it up about music was just what the crowds wanted, and he slayed the stage big time. Read on…
Do you ever just look at a performer and see they are having fun on stage engaging with the audience? That isexactly what Hamish Anderson did when he kicked off day 2 of BottleRock 2018.
Gigi had a wonderful time speaking with blues-rock guitarist-singer-songwriter Hamish Anderson, he was fun and easy to talk to. In part one of our two-part interview, the "Lyrical and soulful" Aussie Blues-Rocker, Hamish Anderson speaks on playing festivals and how his BottleRock experience was.
Hamish recently returned from a European Tour expanding his growing his fanbase. He draws you in with his melodic tunes, lyrics and engaging blues-rock vibe on stage. He played music from "Trouble", which was produced and mixed by Grammy winner, Jim Scott who also produced music for Tom Petty and the Heartbreakers and more.
Gigi met up with Hamish after his set and got the 411 on the singer-songwriter. "How does it feel to be at BottleRock 2018?"
Hamish shared:
It's great honestly. This I think is one of the best festival experiences I've had. Yeah, it's such a great festival and its great to be here.
Hamish has been playing festivals around the world so CelebNMusic247.com asked him about that. "You did SXSW and you've been doing a lot of festivals. How does this one compare to some of the other ones you've been to?"
The "Burn" performer who said he had wanted to play BottleRock for a long time had this to say:
I think this one honestly is so great because it has a wide range of acts on it. Sometimes they go to heavy on the rock stuff or heavy on the EDM stuff but this one has everything.
Gigi asked Hamish which place was your favorite. Hamish who used to spend about half of his time in the states and half in Australia now spends most of his time living in Los Angeles. He only gets back to Australia about twice a year now. He went on to tell us:
It was great. It was my first time playing Europe. It was really awesome. I was doing festivals and shows over there. I think definitely the Netherlands, we had like three or four festivals over there and that was really great. We also played Switzerland which was really cool. Its just like a whole different world over there.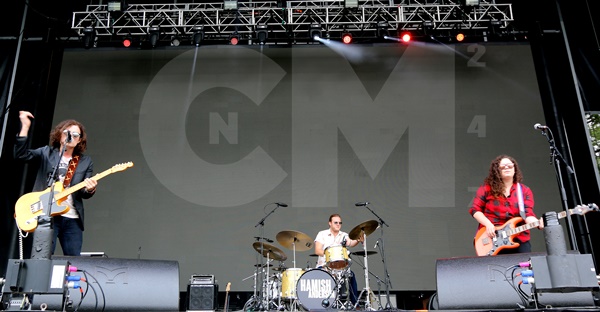 Hamish also shared that his parents were able to go to Western Europe and catch some shows which were very cool. CelebNMusic asked him about being a millennial at age 26 and how the crowds are similar or differ in the States, Europe, and back in Australia?
The "Working Blues" artist who started playing guitar at age 12 shared:
I think with the festival stuff they are pretty similar. In America, especially with my stuff, they love rock and blues so much it is like a perfect audience. All those places love rock, but since it all came from America like the blues, there is still a real hunger for it. Every time the audiences seem to love guitar and hearing that type of music. It's always really nice to play to.
This young Aussie conquered the stage at BottleRock2018 and has been captivating audiences all over. Hamish has new music around the corner.
Stay Connect Hamish at:
Facebook | Twitter | Soundcloud | YouTube | Website
Check out a few videos from Hamish Anderson:
Check out gallery of Hamish at BottleRock 2018:
Photos: Peter RIcci/CelebNMusic247.com