This is ridiculous! When did a mother kissing her daughter on the lips become a problem with America? People NEED to get a life!
Read on and see why Gabrielle Union is now defending kissing her infant daughter on the mouth…
CelebNMusic247.com reports Gabrielle Union is officially a "mama bear" but for some reason, she has found herself defending kissing her baby girl.
Gabrielle Union and Dwayne Wade welcomed baby girl Kaavia James Union Wade via surrogate on November 8, 2018.
Now, a month later happy mommy Gabrielle Union posted a sweet Instagram video kissing her sweet baby girl while the song, "Kissing Game (I Like the Way)" by Hi-Five playing in the background.
Shortly after the post, Gabby followers started commenting on the post how unsafe it is to kiss a newborn baby directly on the lips.
Gabrielle Union politely gathered them with this comment:
Hey, guys, I appreciate all the concern about kisses on the mouth and labored breathing, I am blessed enough to have a nurse here with us while at work. Kaav is healthy and I don't even touch her without washing and sanitizing myself and everything and everyone that comes in contact with her. No visits with sick folk and even all of Oprah's crew got whooping cough vaccinations and current on all vaccinations to be in our home. If you think I waited this long and went thru all this to put my baby in harm's way…you got another thing coming.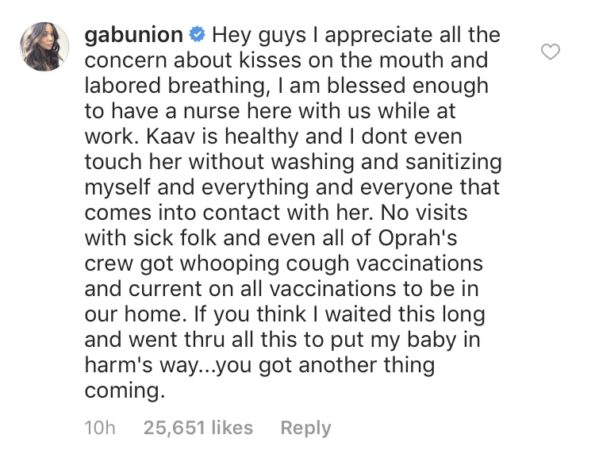 We are happy for the Wade's and their newborn baby girl Kaavia James Union Wade. We understand fans wanting to give advice, but sometimes it's not your place.
Both Gabrielle Union and Dwyane Wade have had a tough road to parenthood.
CelebNMusic247.com is just happy for the couple.
Today new mama posted another video to prove her daughter is just fine: