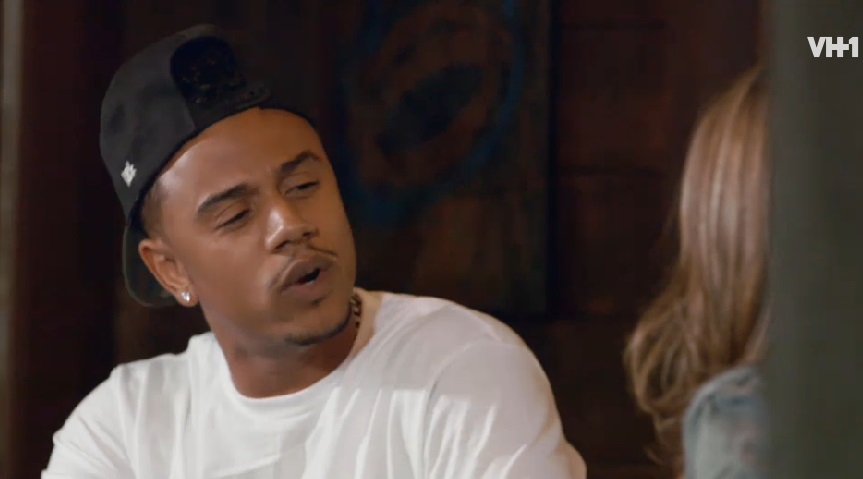 Fizz Dumps Amanda After Catching Her With Dude!
Amanda keeps calling the dude that she cheated on Fizz with is harmless, but when Fizz confronts her on the "friedly breakfast" meeting, she denies it.
Drew, who is obviously hurt, gets in a heated argument with Amanda who continues to deny that she is kicking with another brotha on the side. Fizz is in love with Amanda, but if she can't admit she's still seeing the guy and she is unwilling to break it off then he is DONE!
He tells Amanda to kick rocks!
Watch Fizz as he breaks up with Amanda:
Later Fizz brings Moniece by the new house he bought giving his ex a walk through. He wants her to approve of the home for their son. That is when Mo asks if the house is for he and Amanda. Moniece inquires about Amanda only to find out that he and Amanda relationship is in the trash.
Moniece eyes sparkly, but she refrains from saying, " I told you so." Then she segways into her business start up going left asking Fizz for $30k, that is when Fizz wants to exit stage left because he refuses to give her any money.
A few days later Amanda once again claims that she is done with her secret dude, but Drew tells her that he is no longer there anymore. Amanda claims that she misses him after she ignored his calls and avoided him because she was seeing another guy. Fizz tells her that he took Moniece over the new house saying that she suggested to move in and that's when she gets heated. Amanda goes off calling out Moniece, Fizz baby mama who has every right to see the new house to make sure all is good for her son. But Amanda starts laying demands on Drew and his is taken back. Things don't work out and the two are still at ends.
Moniece Gets Froggy with Amanda:
Later, Moniece has a sit down at Purple Wine & Coffee with the other woman, Amanda.
Amanda calls out Moniece for house hunting with Lil Fizz. Mo does give a flying f–k about Amanda. She calls Amanda out for not being ready for being a mother. Moniece reaches for the spirit of Jesus NOT to beat whoremanda aka wrinklestilskin, but she continues to talk sh-t! She tries to hold it together, but Amanda claims that she that Drew is on a break after calling apologizing to Moniece for calling delusional, but its too late. That's when Moniece get gully like Vivica A. Fox in SET IT OFF!
Watch Moniece gets froggy and leaps at Amanda giving her a beat down, which she is doesn't regret: