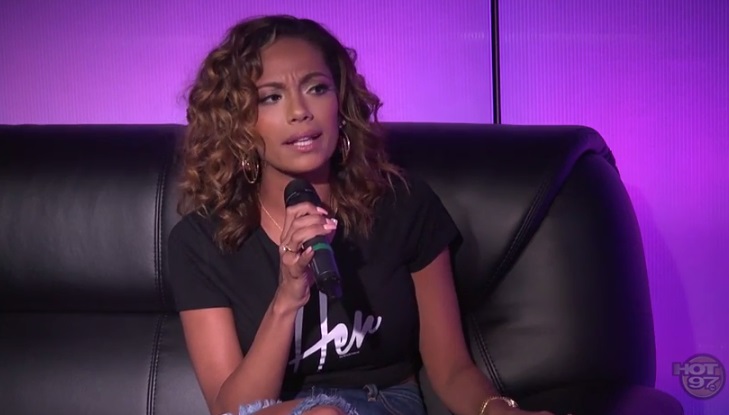 Erica Mena Weighs In On Love & Hip Hop!?!
Now that Erica Mena is done with Love and Hip Hop New York, Erica Mena Weighs In On Love & Hip Hop and it's producers.
Tonight on the LHH 5 Reunion Erica Mena had a very emotional goodbye which wasn't well received by Rich Dollaz, Cyn or her nemesis Chrissy. Erica even felt that producers wanted to stir up more drama for her fire cracker storyline so they allegedly hired Chrissy Monroe to attack her for show purposes.
Erica Mena claims that the producers constantly made an effort to edit out the good things in her life. Now that she is on to the next chapter in her life with actor/rapper Bow Wow, born Shad Moss, she is unleashing all her thoughts:
[rpi]
She tells Nessa of Hot 97:

"You're feeding America this bullsh*t made up story just so you could have somebody like pair up with me. Now they think they found somebody to be my match. That discourages me because these are people who I've been working with for like three years. And it's like you have no remorse for the fact that I've been busting my a*s…yes I go against the grain because there's times when I pull up on set and it just doesn't feel right. Like in my gut I know I'm being set up, so I speed off. And I get a fine from VH1.

"Because I just won't do certain things. I just go with my gut. So at the end of the day, like who you are as a person and your livelihood and all that doesn't get respected."

Erica also says she feels like Yandy Smith is the only one the producers respect.

"The only person I feel like they respected throughout the whole cast and their livelihood and give consideration to is Yandy. And that's why Yandy is looked at as this flawless person. But I think she worse than all of us in a sense that no one's perfect. And yet her storylines always are no matter how bad life is."

When asked why:

"I think it's all about who you know."
Check the FULL interview via Hot97:
What do you think?