Erica Campbell Gives Azriel Clary Advice Follow Fistfight!
On Wednesday, Azriel Clary made headlines everywhere when she went Live from Chicago it a fistfight with Joycelyn Savage.
The 22-year-old who has spent the last 5 years as R. Kelly's live-in girlfriend, got into it with Kellz girlfriend, Joycelyn Savage, and it got exposed on Azriel Clary IG Live.  Clary has been spilling tea since the incident. Read on since Erica Campbell has some advice for Azriel…
CelebNMusic247.com reports that the fallout from the fistfight that landed Joycelyn Savage in jail for misdemeanor battery.
On Thursday, Joycelyn Savage was just released from jail with a promise to appear at her next court date on January 23.
Savage surrendered to Chicago PD late Wednesday night and was booked for misdemeanor battery for the incident at R. Kelly's condo. She has to face a judge Thursday morning who will lay out the ground rules for her release. She'll face the charge in court on Feb. 6. – TMZ
Azriel Clary claims that Joy (Joycelyn) punched in the face with a closed fist!
Clary went to the hospital to be treated for redness and swelling of her left eye.
Since the fight, Azriel's Instagram stories are now filled with supportive messages encouraging her to tell her truth.
Clary has been through a lot, and most likely needs to heal before baring her soul to social media. Which brings us to Erica Campbell, who has decided to share some words of positivity and support, not just for Clary to share her truth, but her to get the healing she needs to move on with her life
Campbell, "More Than Pretty" author and award-winning gospel singer, had these encouraging word for Azriel while at the NAACP Image Awards nominations on Thursday morning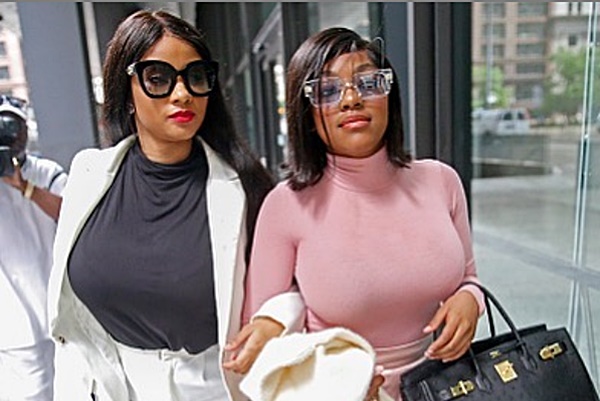 Erica shared her thoughtful and meaningful advice saying to HH:
You don't have to be the subject of abuse from anyone.
She continues:
There is no way that God put this divine gift in you and the only way I can get there is to allow myself to be used by someone. He doesn't work like that. And I know that there have been people who have lied, manipulated and made you think this is the only way – That ain't the only way!
Erica concludes:
Stand up for who you are, own your art, me it comes from a true place, not try to get nobody back, prove nothing to nobody, just be uniquely you. Connect with the father, and having a foundation that is solid, but that only comes from knowing who you are.
Kitti Jones feels Azriel Clary and Joycelyn Savage's fight May Have Saved Them Both.
TMZ reports:
Kitti Jones, one of R. Kelly's exes who's accused him of physical abuse and sexual coercion — is weighing in on Azriel Clary and Joycelyn Savage's fight and says they may end up saving each other.

Kitti appeared in both 'Surviving R. Kelly' docs, and tells us even though Azriel and Joycelyn were brawling, they could ultimately end up being allies. As Kitti puts it … that shared experience of dealing with Kelly is a powerful one.
What do you think of Erica Campbell advice for Azriel Clary? Do you think Kitti Jones is right?