R. Kelly's ex-wife Drea Kelly claims his abusive ways didn't end when they got divorced.
Drea Kelly reveals how R. Kelly not paying child support was another way of control. Read on for the tea spill…
CelebNMusic247.com reports that "Surviving R. Kelly" ex-wife Drea Kelly says he needs to tell the truth and he needs to stop playing the victim.
Drea Kelly says the embattled singer knew EXACTLY where to hit Drea where it hurt her most after she spoke out in June 2018.
Mrs. Kelly told "Sister Circle Live" that during their marriage Robert Kelly was physically and mentally abusive.
TMZ reports:
Drea's team says her career took a hard hit after she had her first kid — Kelly wanted her to be a stay-at-home mom, set strict rules for her and insisted she only work for him. When the marriage hit rock bottom … she was a single mother without a job.
This week, R. Kelly, who has 3 kids with Drea, tearfully claimed that he's a father who can't even see his kids.
The only problem with Kellz plea to Gayle King made no sense since Drea says Kelly's unwillingness to take care of his kids was a form of control because he knew damn well she needed his financial support.
She also claims that R. Kelly STOPPED making child support payments after her interview aired on TV.
Before his payments COMPLETELY STOPPED Drea claims sometimes he would pay in full, sometimes late and sometimes nothing at all.
As for Kelly dumping all his problems on Drea — she says that's a load of crap.
TMZ also states:
Kelly's daughter, Buku Abi, also says she and her siblings have been estranged from their father for years. Although, she called him a "monster" … Kelly, ironically, chalks that up to brainwashing from Drea.
Either way, Kelly has definitely come up short with his kids when it comes to child support… which is why he was arrested again Wednesday. As we reported, he'll need to fork over more than $161k to Drea to be released.
Meanwhile, R. Kelly says he's short on cash and running out of options. Now the King of R&B is trying a new tactic by begging the court to cut him a financial break.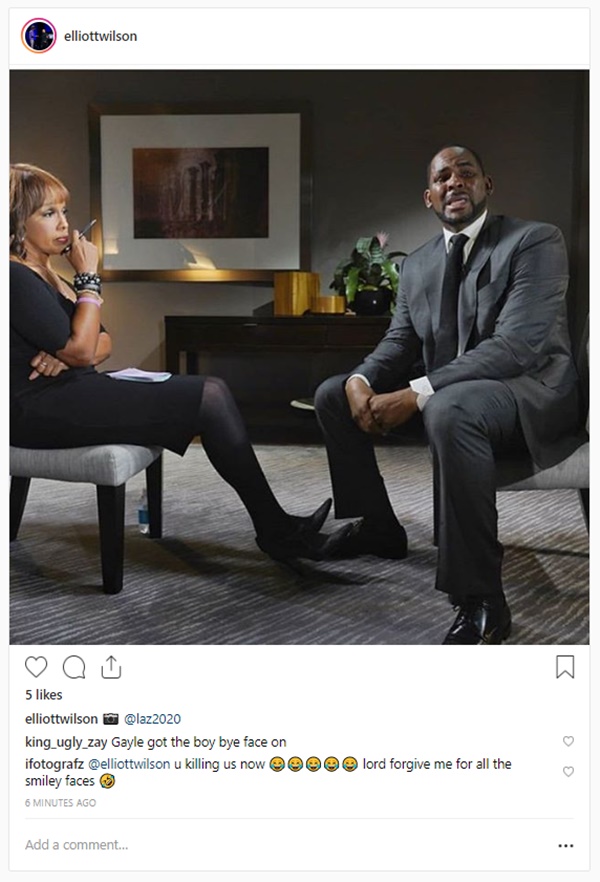 R. Kelly is trying to Shuck and Jive his way out of Prison over NOT paying Child Support:
TMZ reports:
On Wednesday, Kellz failed to come up with the child support money. He's stuck in a jail cell until he can pay the ordered amount — $161,633.
Kelly publicly blamed his ex for his failure to pay child support during his CBS interview, claiming her "lies" about his abuse are the reason he can't make any dough. He also tried to claim he's trying to reconnect with his kids, but sources say that's BS 
Kelly's Plan B, we're told, is trying to scrape together the $161k through the assistance of others — not unlike the woman who paid the $100k to bail him out last month.
If it works, he could possibly get out of Cook County jail on Friday.