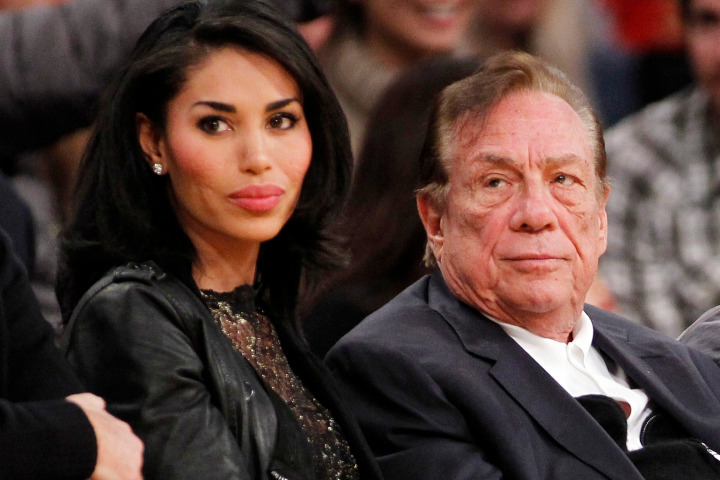 Donald Sterling SLAMS TMZ & V. Stiviano With Lawsuit!!!
It looks like the Ex-Clippers owner and racist, Donald Sterling SLAMS TMZ & V. Stiviano With Lawsuit over recording exposing his true colors and ruining his career.
Before we go any further, TMZ is owned by Warner Bros, so Sterling is going up against a Hollywood powerhouse. If you remember, the recording that outed former Clippers owner Donald Sterling as a racist and ultimately resulted in his ban from the NBA last year is the basis for new litigation against the billionaire's ex-girlfriend and gossip website TMZ.
CelebNMusic247.com has this report via SportingNews:
In a lawsuit filed Friday in Los Angeles Superior Court, Sterling accuses TMZ and V. Stiviano of violating his privacy and causing damage on a "scale of unparalleled and unprecedented magnitude" for recording and releasing a conversation in which Sterling is heard forbidding Stiviano to associate with black people.

The audio, first released on TMZ.com in April 2014, led to NBA commissioner Adam Silver banning Sterling from the league.

Shelly Sterling, his estranged wife, eventually sold the Clippers franchise to former Microsoft CEO Steve Ballmer for $2 billion. She had won court approval for the sale by showing Sterling had dementia and was unfit to handle his own business affairs.
[rpi]
Sterling launched an initial lawsuit after the ruling, alleging that Shelly Sterling, the NBA and two doctors who examined him conspired to rid him of the team.

Last week, he filed for divorce from his wife of six decades.

Sterling, 81, had been in a relationship with Stiviano for 2 1/2 years at the time of the recordings, to which Stiviano has said Sterling consented. But Sterling contends in the lawsuit the "illicit" cellphone audio was made without his knowledge and forwarded to TMZ by Stiviano "and/or her agents."

Mac Nehoray, an attorney for Stiviano, told The Associated Press that Sterling also made the racial remarks in front of Stiviano's sister, negating his privacy claim.

"It's ridiculous if he says he was damaged by it when he made $2 billion," Nehoray said. "I think he's just a litigious person. Unless he has something going on in the public eye, he can't exist."

In April, two weeks before the recordings were made public, Stiviano was ordered by a judge to pay Shelly Sterling $2.6 million for gifts given to her by Donald Sterling. At the time, she professed love for Sterling, going as far as to call Shelly Sterling "evil."
What do you think of Sterling's lawsuit?
Do you feel he has the right to sue?