Many celebrities are voicing their anger on social media for Donald Trump on Sunday morning after he called out Debra Messing on Twitter.
Once again, the President ignores his job in the White House and starts fighting on social media with Will & Grace star Debra Messing. SMH Hey Trump what about the mass shooting which took place Saturday in Odessa, Texas or the impending Hurricane Dorian? Read on to check out what went down…
JUST IN: Trump targets Debra Messing after actress calls for exposing Hollywood donors https://t.co/xrvAy6o2ft pic.twitter.com/EhdJhUg4US

— The Hill (@thehill) September 1, 2019
CelebNMusic247.com reports that Trump first responded to a message from the 51-year-old about an upcoming fundraiser event.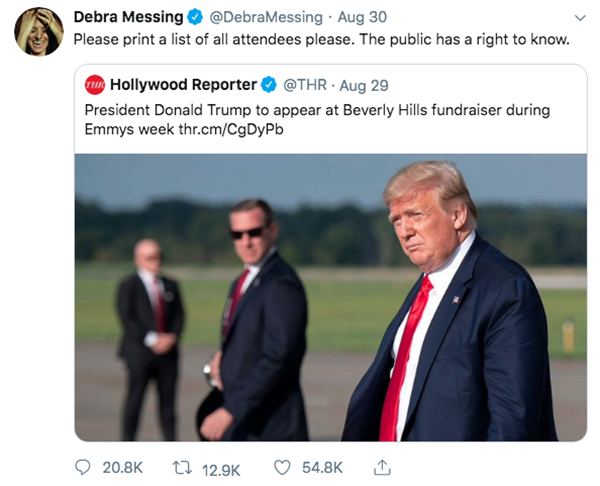 On Friday, the Will & Grace actress quote-tweeted an article from The Hollywood Reporter about a fundraiser in Beverly Hills which the President is set to attend. She demanded to know who was attending so she knows who to avoid working with.
Of course, Donald Trump didn't take kind to Debra Messing, so the 73-year-old responded recalling a time when he first met the actress.
Debra listed all the gun violence in the US: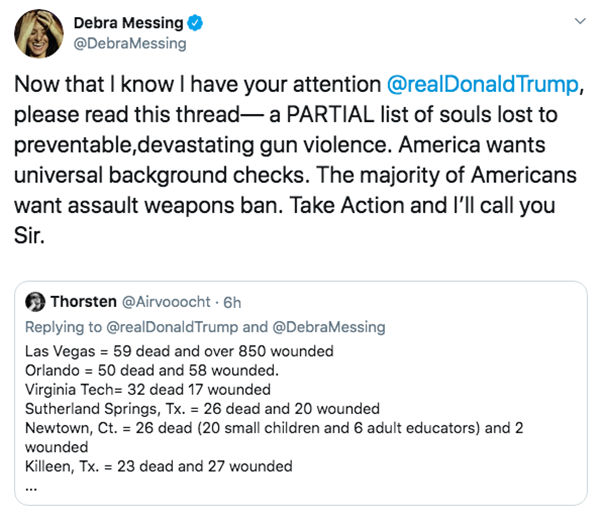 And all she go back from the Petty President was this load of BS:
I have not forgotten that when it was announced that I was going to do The Apprentice, and when it then became a big hit, helping NBC's failed lineup greatly, @DebraMessing came up to me at an Upfront & profusely thanked me, even calling me "Sir." How times have changed!
Trump was quickly called out by many users on the social media over his choice to throw shade at Messing, and not Saturday's shooting or Hurricane Dorian.
Here is some of the backlash towards Trump:
….. you're tweeting about @DebraMessing in the aftermath of a mass shooting and in the face of a hurricane. You, sir, lack both will and grace.

There is a category 5 hurricane getting ready to slam into the Bahamas and then the east coast of the United States and Trump is on twitter attacking Debra Messing. He is a disgrace to our nation.

If you're attacking Debra Messing instead of talking about the mass shooting or the hurricane, then no, you absolutely shouldn't be president.

It seems noteworthy that the president was tweeting about Debra Messing and The Apprentice this morning, hours after a mass shooting in West Texas and while a hurricane that's threatening parts of the south was continuing to strengthen.
But this is what Trump does best deflect from the real problems because at the end of the day, he's a REALITY TV STAR…NOT someone who should have become President.
After being CALLED OUT as a CRAPPY President, Trump retweeted multiple old tweets and later sent out messages about the natural disaster and shooting in Texas:
In addition to Florida – South Carolina, North Carolina, Georgia, and Alabama, will most likely be hit (much) harder than anticipated. Looking like one of the largest hurricanes ever. Already category 5. BE CAREFUL! GOD BLESS EVERYONE!

Pray for the people in the Bahamas. Being hit like never before, Category 5. Almost 200 MPH winds.

Great job by Texas Law Enforcement and First Responders in handling the terrible shooting tragedy yesterday. Thank you also to the FBI, @GregAbbott_TXand all others. A very tough and sad situation!
You ever get the impression he just doesn't care about anyone but himself? SMH
Debra posted this after todays battle with Trump:
We need to come together. Let's talk. Really talk. Text me at 646-766-1007. pic.twitter.com/ovEPmM41js

— Debra Messing (@DebraMessing) September 1, 2019