Conflicting Reports Of Juice WRLD Dead Raise Question!
Chicago-area rapper Juice WRLD, who launched his career on SoundCloud before becoming a streaming juggernaut has died, but there are too many conflicting reports that don't add up. Read on to see the muliple conflicting reports on Juice WRLD dead….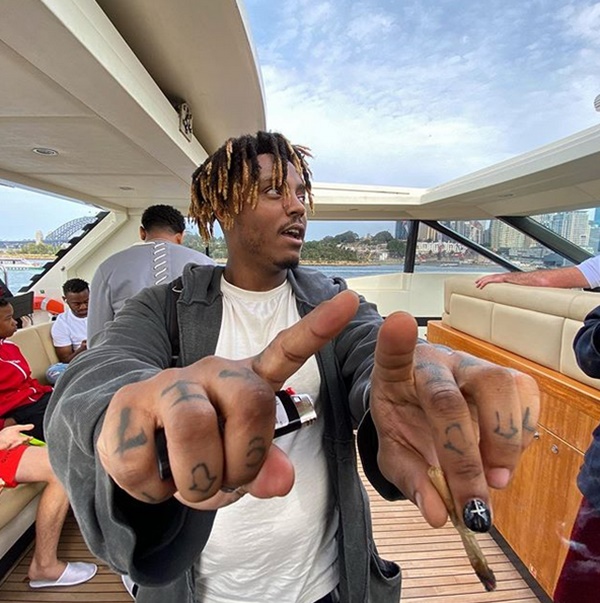 CelebNMusic247.com reports that the "Lucid Dreams," rapper who quickly rose to fame in 2018 has died at the age of 21, but reports have conflicting information.
So what is really going on because no one seems to have the correct time of death or cause? Reports are claiming seizure, cardiac arrest, and overdose while another said he was bleeding from the mouth. Reports even have conflicting reports on the hospital he was "taken" too?
We learned that he was RUSHED to Advocate Christ Medical Center, Oak Lawn, IL, where he was pronounced dead 15 minutes after suffering a seizure at the airport. How far away is Advocate Christ Medical Center from Atlantic Aviation at Midway airport?
Here is what Google mapping reports, so how did he die in the hospital? Did he die in transport? or was he already DOA?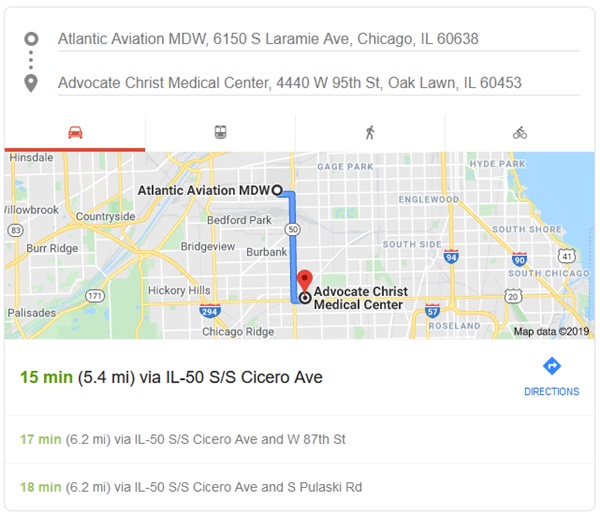 Check out what the new papers and gossip site TMZ is reporting:
JuiceWRLD, whose legal name was Jarad A. Higgins, landed Sunday morning from California, he suffered a seizure at around 3 a.m. while walking through the airport. Chicago police launched a death investigation after a 21-year-old male experiencing a "medical emergency" was transported from Midway to an area hospital. Chicago Fire Department spokesman Larry Langford said the man experienced cardiac arrest and was taken to a hospital from a hangar operated by Atlantic Aviation at Midway, away from the main terminal, where private planes land.  He was bleeding from the mouth when paramedics responded to the scene, reports TMZ.
The New York Times reports that Juice WRLD had been pronounced dead at 3:14 a.m. at Advocate Christ Medical Center in Oak Lawn, Ill. The cause of death was not available and an autopsy was to be done, the office said.
Juice WRLD experienced a medical emergency around 3:30 a.m. at Midway International Airport, the Chicago Sun-Times reported.
Police spokesman Anthony Guglielmi said there were "no signs of foul play evident to officers," adding that the individuals traveling with Juice WRLD have been cooperating with police. Guglielmi told the New York Post that Juice WRLD was with about a dozen people, including his entourage, security guards and aircraft staff, and was seen "basically convulsing" at a private hangar.
Juice WRLD Dies But His Security Gets Arrested?
Then, there is this report stating that two security guards with rapper Juice Wrld arrested on gun charges at the time of his sudden death on Sunday, police said. They had a conceal and carry permit valid in the state of Illinois, but it didn't allow them to bring the weapons into an airport.  They were arrested and charged with misdemeanor gun violations, Guglielmi said. Their names and exact charges weren't immediately released, pending approval of the charges from the state's attorney.
WGN-TV reports he was pronounced dead at a hospital around 3:15 a.m. and taken to the Cook County medical examiner's office several hours later, according to office spokeswoman Natalia Derevyanny, who said an autopsy would take place Monday.
Akademiks posted this footage of Juice on the plan before his death. There are no signs of drug use, and he looks fine.
#CelebNMusic247 #reports #JuiceWRLD on the plan before his shocking death. He didn't seem high. https://t.co/sWhKVM67Gh

— Celeb N Music 247 (@CNM24_7) December 9, 2019
#CelebNMusic247 #JuiceWRLD on the plan still looking fine. So what happened? https://t.co/eY0mAJarBx

— Celeb N Music 247 (@CNM24_7) December 9, 2019
What We Learned About JuiceWRLD death:
Inside sources tell CelebNMusic247 exclusively that his management was on the watch of Juice Wrld to make sure he was NOT doing drugs.
They told us:
It appears his management is in trouble now that Interscope's biggest moneymaker has died of an apparent seizure.

The label is gonna want to know how Juice Wrld was able to get the drugs and from who if he was on watch to make sure he was clean?
Juice WRLD blended rapping and singing on his songs, sometimes mumbling words and focusing more on melody. He is most known for his 2018 hit "Lucid Dreams," which heavily samples Sting's 1993 song "Shape of My Heart." His second hit was "All Girls Are the Same," off his platinum hit and major-label debut album, "Goodbye & Good Riddance." Currently, Juice WRLD sales are topping iTunes, Spotify and more…
He's had 10 songs reach gold status and also had success with 2018's "Wrld on Drugs," a collaborative album with rapper-singer-producer Future.
#RIP Juice WRLD