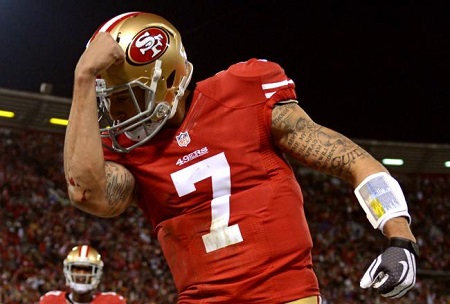 (CelebNMusic247-News) Colin Kaepernick Willing To Take Less Money:
An interesting thing happened with Colin Kaepernick, after he made a comment about the Seahawks.
While everyone focused on him saying the Seahawks secondary was vunerable, which was silly considering Colin is watching the big game with us, he also made some other interesting comments.
He said on KNBR that he would be willing to take less money to help the team sign other players:
"I think it's a balance. You want to be paid fairly for what you feel like you're doing in comparison to your peers," Kaepernick said on KNBR, via Matt Barrows of the Sacramento Bee. "But at the same time, you have to realize, if we want to get Anquan Boldin back, if we want Donte Whitner to come back, we're going to have to make moves to get them back. And there has to be room for everyone. And that's something I'm going to let my agent and the organization try to figure out. But hopefully, it's a position where we can assemble the best team we need."

Things will be interesting for the 49ers as they have to make tough decisions on some players like Boldin and Whitner but also have other guys looming like Mike Iupati, Aldon Smith, and Crabtree.

It sounds good to say that he is willing to be a team player on his contract but let's see how this all shakes out. Either way, good for him.
Related articles