Coi Leray "No More Parties" Causes FEUD with Dad Benzino!
On Monday (March 1) Coi Leray dropped new music that ignited a major beef between herself and dad Benzino. The former Love & Hip Hop Atlanta star went off in a Live post about his daughter Coi Leray. Read on because Coi Leray fired off a series of tweets condemning her father Benzino…
View this post on Instagram

CelebnMusic247.com reports that Coi Leray fired off a series of tweets condemning her father for comments he made about her latest song "No More Parties."
What set Benzino off?
Coi Leray called out her dad Benzino in her new song and it set off a toxic chain of events.
She sings in her new song disrespecting her father:
I'm too busy getting this money
Counting this cheddar
My daddy let me down
But I promise you I won't let up
I wanna say f##k that man
But this sh#t won't make me better
Me and my brother still beefin' right now
'Cause he ain't get that letter
The former co-publisher of The Source penned an Instagram post just hours earlier that read:
I been posting and supporting, so idk where all this bs is coming from. That line in her song is [cap] my name and rep is very important to me and nobody is gonna tarnish that for storyline u dig? I still love u very much Coi Leray but this gotta stop.
View this post on Instagram
Evidently, Benzino's comments enraged Leray so she CLAPPED BACK on Twitter.
Coi went on a tirade, admitting she's ashamed to be his daughter, saying in a since-deleted tweet:
And this is why I NEVER WANTED ANYBODY TO KNOW!!! I'M EMBARRASSED TO BE YOUR DAUGHTER. I should have been a boy your right cause I would have knocked you the fuck out already. NUMB TO THE PAIN!! I'm hurting right now but it's all good. Ima be the one to PUT US RIGHT BACK IN THAT MANSION.
In Leray's previous tweets, she called Benzino a "fucking liar" and claimed they once "lost everything" so now she appears to feel like it's on her to rebuild their finances.
Leray was thrown into the middle of the ongoing beef between Benzino and Royce Da 5'9 in January, with Nickle Nine insinuating she had daddy issues.
He threatened to take her to a park and "let her ride the swings" if her dad doesn't stop letting his Twitter finger run loose.
Nickle Nine wrote at the time:
She pussy popping on a handstand on IG. Now go hug her and tell her she's beautiful before Drake or Trey Songz does.
Leray seemed to address Royce's comments in her recent tweet-and-delete, writing:
Reasons why I think I need a n-gga to love me now because your BITCH ASS NEVER DID.
After taking a few moments to calm down, Leray issued a few more tweets apologizing for losing her cool.
She said:
Forgive me for stepping out of character. I thought I prepared myself for this moment but I'm still not ready. I'm still angry. Don't hold grudges. Let miserable people be miserable and just love from a distance. That was a test and I feel like I failed by responding. Not everything needs a response. It's cool, I'm learning. Always room for growth.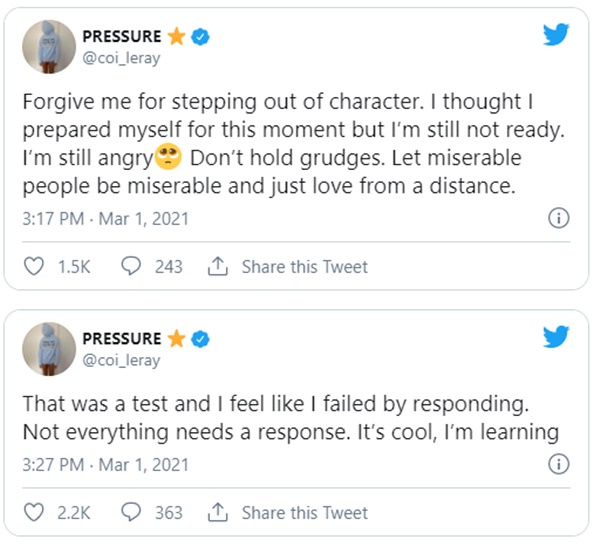 Before the beef, Benzino was speaking proudly of his daughter Coi: