Before the ish hit the fan it appears that Clayne Crawford made a final attempt to save his job with FOX's Lethal Weapon, but it was too late.
Read on to see the apology from Clayne Crawford which came too late because the cast and crew were already threw with him…
CelebNMusic247.com has the latest tea spilling now that Lethal Weapon season 2 is a wrap and the series was renewed for season 3 on Sunday.
Read the full list of series that weren't so lucky. Some of your favorite series have been cancelled like Kevin Can Wait, Quantico, Alex Inc and many more, via MetaCritic.
As for, Carl Crawford, his career is in the toilet after Damon Wayans revealed the tea on his on set bad beahvior.
Carl apologized in April, but that appeared to be too late for everyone on the production.
Last week, the actor who felt in the dark before being FIRED by FOX said:
When everyone seems to know your future but you. Zero communication with Fox or Warner Bros.  I hope I'm not fired!! Dang.
Clayne Crawford Apology Admits Wrongs But it was TOO LATE!
In his apology, Crawford offered his version of two incidents that ultimately led to his firing. Riggs aka Clayne Crawford admitted to two incidents that Damon spoke on. He said the first incident happened when he became angry with what he deemed unsafe working conditions on the set. He went on to admit that he met with human resources, apologized for his role in the conflict and completed studio-appointed therapy, while also sharing a "sizable portion" of his paycheck with one of the parties involved.
The second incident occurred during an episode Crawford was directing when another actor on set felt unsafe after being hit by a piece of shrapnel from an effect. We would guess this was the incident where Damon posted a photo of his slashed head.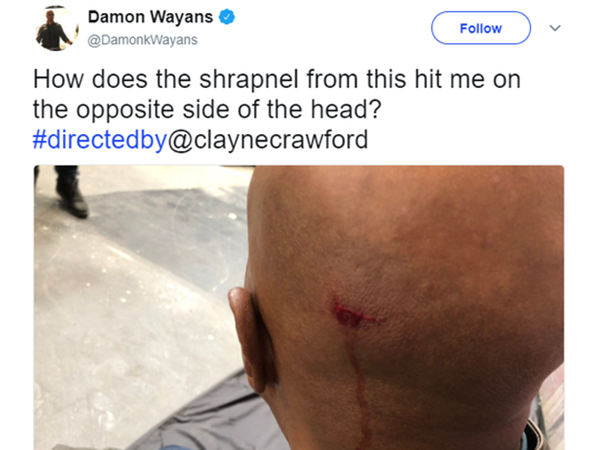 Clayne Crawford wrote:
I absolutely love, respect and care for my crew and cast, and would never intentionally jeopardize so many jobs. I am incredibly sorry if my passion for doing good work has ever made anyone feel less than comfortable on our set, or feel less than celebrated for their efforts. Furthermore, I apologize to all the crew and cast for any negative attention Lethal Weapon is receiving because of these incidents.
After being FIRED from FOX Crawford thanked his loyal fans and wished the cast and crew good luck on season three of Lethal Weapon:
To my cast and crew – CONGRATULATIONS on season 3! To the Fans – Thank you for the overwhelming support and love. Riggs was a dream role and the experience will live with me forever. My heart is full. Good Luck next season!!
Fans of Clayne Crawford have come in his defense TRASHING Damon Wayans diva-tude, which also suggests why Wayans deleted his twitter with a final tweet which reads: