Cardi B just made her love official and forever in ink do they part. Yup Cardi got a new tattoo of Offset on her bawdy!
Continue on to see Cardi B new tattoo of Offset...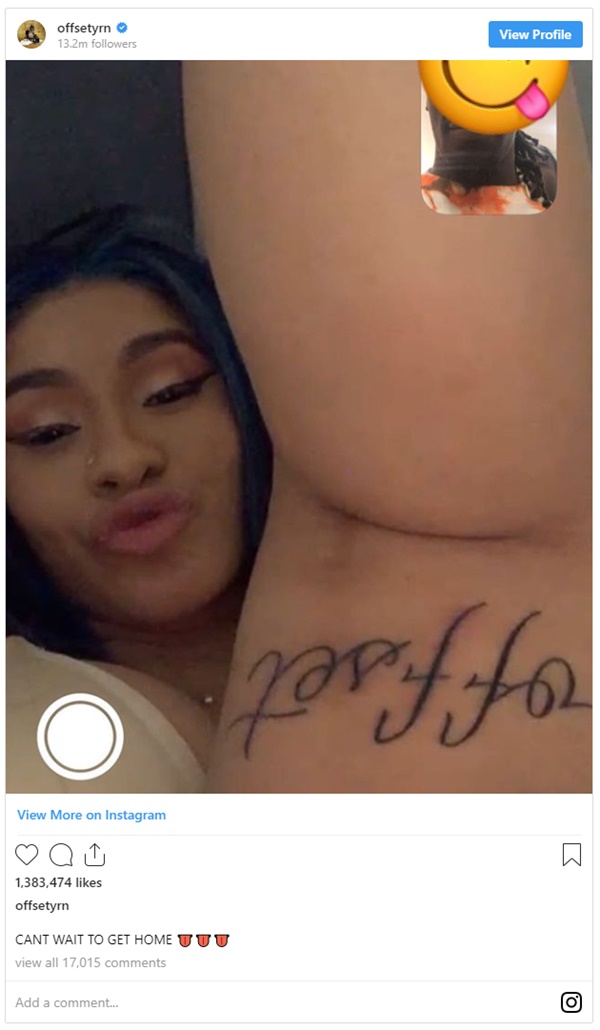 CelebNMusic247.com reports that the "Money" rapper 26, was spotted on the gram with new ink, thanks to her hubby Offset, 27, of Migos.
Cardi B is seen in the photo provided by Offset on the back of her thigh above the knee.
That new ink is of her husband Kiari Kendrell Cephus stage name Offset.
The "Clout" rapper posted the photo of his wife Cardi displaying the ink while FaceTiming with him on Instagram. "CANT WAIT TO GET HOME," he captioned the pic.
She does, however, have two other men's names tattooed on her back and wrist, though her connection to each is unclear.
In other news, Cardi B was spotted threatening suicide over the weekend.
According to a tweet, Cardi B has been complaining about her newly complicated life, ever since her career caught fire, a couple of years ago.
Cardi has repeatedly told fans that her life is unhappy, even though she's rich and famous.

Yesterday she took things to another level – by publicly saying that she "wishes she was dead."

Despite her fame and fortune, Cardi never seemed completely happy. Ever since her dream of being a rap star is a reality it's all just work work work and more work.

We doubt this is what she thought about being in the music industry was really about.
Not to mention her personal dramas that have plagued her life. Her husband Offset publicly cheated on her (with another female rapper) while Cardi was pregnant – and the two split. And Cardi was recently charged with 14 charges in New York City, for allegedly ordering a hit on Offset's side piece.
Cardi's tweet: