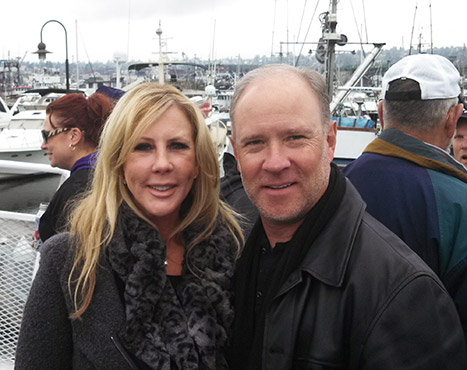 Brooks Ayers Leaves The OC But Cancer Stories Continue???
The big question is Brooks Ayers lying about having cancer? Inquiring minds want to know, as for Brooks, Well Brooks Ayers Leaves The OC But Cancer Stories Continue!
CelebNMusic247.com Real Housewives of Orange County star no longer is living in the OC. Brooks Ayers is now living in Florida, but people are still seeking the truth. And now, new information hints that he hasn't keep his stories straight.
Now we blame the media for twisting story titles to get traffic, so we are hesitant to believe that Brooks Ayers is lying about having cancer.
According to a new tweet, Brooks Ayers may have been caught in a lie. As it turns out, he said things during several interviews that just don't match up. And now, Meghan King Edmonds is sharing the information with her Twitter followers and supporters.

Meghan Edmonds revealed this morning, sharing two interviews with Brooks Ayers. The date is the same on the articles, but the information does not match up:

"Thanks to the #truthandjusticefanclub its been discovered Crooks can't keep his lies straight! Proof-see dates!"
Take a look: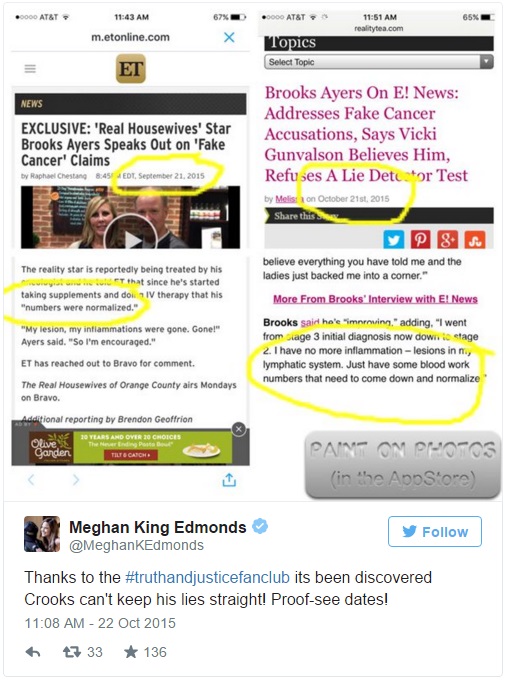 According to an interview with Entertainment Tonight, Brooks Ayers revealed that his numbers were normalized. In another interview reported by Reality Tea, Ayers said:

"I went from stage 3 initial diagnosis now down to stage 2. I have no more inflammation – lesions in my lymphatic system. Just have some blood work numbers that need to come down and normalize."

In other words, Ayers' stories aren't matching up. In one interview, he claims that the numbers need to normalize. In another interview, he says the numbers are normalized. These two interviews were published the same day, so unless he got a call from the doctors in between the interviews, these stories don't make sense.

The question that needs to be asked is when did each of those sites do the interview. It could have been a month old or less before the actually live publish date.
Do you think that Brooks Ayers is lying?