When it comes to Lisa Vanderpump being a manipulative wench out to destroy people Real Housewives of Beverly Hills star Brandi Glanville is pointing the finger at Kyle Richards!
We guess the word SHADE would be more than appropriate in this case. See Brandi is puttin Kyle's head on the guillotine blaming her about Lisa Vanderpump was bankrupt.
While dishing to E! News about the Real Housewives of Beverly Hills reunion, CelebNMusic247.com got the tea from the tempestuous falling out with Lisa, and how she knows about Lisa's so-called finances, Brandi says it's all Kyle's fault!

Brandi  puts Kyle Richards on blast saying:

"The one thing I do want to clear up is that I don't know if Lisa and Ken lived in Calabasas and filed for bankruptcy." 

"Kyle Richards told me, I looked it up and on this site where you pay $9.99 it said yes, they lived off Mulholland drive in Calabasas." 

"How do I know if they filed for bankruptcy? Kyle Richards said Ken and Lisawere going to file for bankruptcy and lived in Calabasas. It's something I repeated, but if they say it's not true, it's probably not true. I don't know it for a fact. It's something Kyle told me and I repeated it. I just don't understand why Ken and Lisa care so much." 

Though, Brandi admits that after all the bashing and rumor mongering and how upset Lisa Vanderpump and Ken Todd are over their financial status being defamed she's not sure they'll ever mend their friendship.

Brandi insists:

"Right now, I don't know. They're so upset over this bankruptcy stuff. Things are always changing. But she has a place in my heart, for sure." 

Brandi adds:

"I think they're really upset about the bankruptcy thing, but I was just repeating something Kyle had told me. Even if they did file, is that a bad thing? Who cares? A lot of people do it. I hope they never did, but if they did, who cares? I love Lisa, but we have our issues. And you will see them on the reunion."
But things don't stop there for Brandi Glanville, since she'll do about anything in her power to defame Vanderpump Rules star Lisa by accusing her of living a lie.
As for Kyle Richards? She's denying that she ever said anything about Lisa on her Facebook.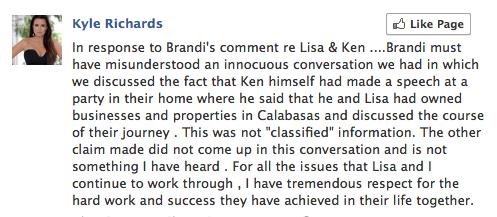 Kyle tried to clean things up with a tweet:
"For the record @ENews I never said Lisa filed for bankruptcy." 
Lisa who was tired of the lies and friendship betrayal tweeted that she brought up the bankruptcy rumors at the reunion so everything can be clarified.
Related articles