BottleRock Napa Postponed May 2021!
Hold on to your 2020 tickets since BottleRock Napa Postponed May 2021. Read on for more details…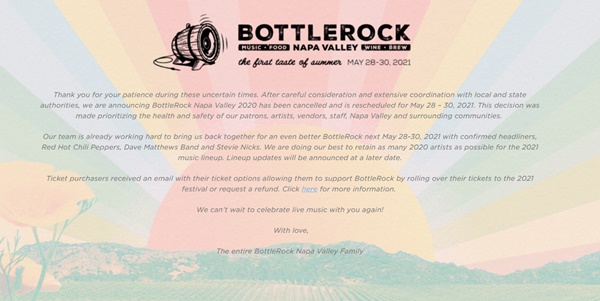 CelebNMusic247.com received word via BottleRock Napa this afternoon that the festival will be postponed due to the Coronavirus Pandemic.
For the safety of music lovers and helping to stop the spread of the coronavirus, the team over at BottleRock Napa made the tough decision to postponed this year's event.
The event for 2020 was first postponed from May until October of 2020. Since the pandemic is NOT over and the uprise in Covid-19 cases, the event team had to scrap 2020 all together.
BottleRock Napa confirmed that they will have the same headliners, Red Hot Chili Peppers, Dave Matthews Band, and Stevie Nicks for 2021.
BottleRock Napa Valley 2020 Canceled!
The festival that has been rocking the Napa Valley for eight years strong released this statement on their site today (Wednesday, July 22, 2020):
Thank you for your patience during these uncertain times. After careful consideration and extensive coordination with local and state authorities, we are announcing BottleRock Napa Valley 2020 has been canceled and is rescheduled for May 28 – 30, 2021. This decision was made prioritizing the health and safety of our patrons, artists, vendors, staff, Napa Valley, and surrounding communities.

Our team is already working hard to bring us back together for an even better BottleRock next May 28-30, 2021 with confirmed headliners, Red Hot Chili Peppers, Dave Matthews Band, and Stevie Nicks. We are doing our best to retain as many 2020 artists as possible for the 2021 music lineup. Lineup updates will be announced at a later date.

Ticket purchasers received an email with their ticket options allowing them to support BottleRock by rolling over their tickets to the 2021 festival or request a refund. Click for more information.

We can't wait to celebrate live music with you again!

With love,

The entire BottleRock Napa Valley Family
Everything happens for a reason and have BottleRock Napa postponed until May 2021 is a good thing.
See y'all in 2021. Be safe.