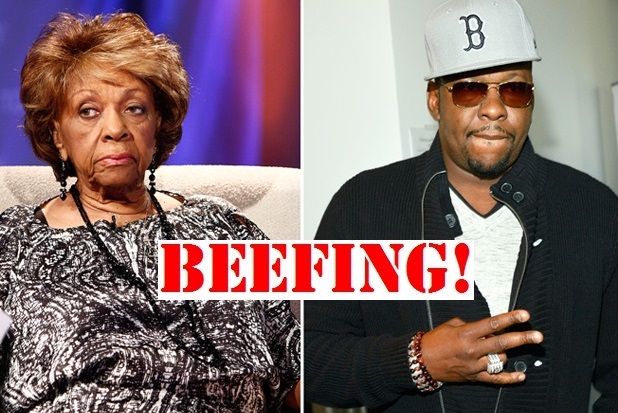 Bobby Vs Cissy Houston Over Bobbi Kristina Funeral Plans?!?
In the wake of Bobbi Kristina near death, her dad Bobby Vs Cissy Houston Over Bobbi Kristina Funeral Plans over a $20 million inheritance war about to start.
Here is what CelebNMusic247.com is hearing from multiple reports on the Internet.
Apparently there is a HUGE WAR going on between Bobby Brown and Cissy Houston since she has demanded that he is banned from visitation rights to be at his daughter's bedside, according to CelebDirtyLaundry:
Bobbi Kristina's family has gathered at the hospital to say their good-byes and begin funeral arrangements, however all hell is breaking loose – and an all out war between Bobby Brown and his family, and Whitney Houston's family is already in the early stages, and a bloody brawl has already erupted at a hotel earlier this week.

Bobbi Kristina Brown's grandmother Cissy Houston and her family have banned Bobby and the Browns from visiting Bobbi Kristina in the hospital, and according to new reports from TMZ Cissy has put guards at Bobbi's hospital room – and they are not letting in any of the Browns. This is not going over well with Bobby Brown and his family, who were treated the same exact way when Whitney Houston passed away – Bobby wasn't even allowed to sit with his daughter at the singer's funeral.
While TMZ is reporting that the Browns are preparing for war because of the way they were treated when Whitney Houston died. History of bad blood runs dead with Bobby and Cissy, so things are about to get REAL UGLY.
Sources connected with the Brown family tell TMZ … they are a united front to this extent — they refuse to be disrespected the way they feel they were at Whitney's funeral.

You may recall … Bobby Brown stormed out of the funeral after security refused to let him sit with Bobbi Kristina during the service. Bobby told us at the time … he was also furious the Houston's were angry that he dared to bring 9 members of his family with him.

We're told the feud has already reignited. Houston family security set up a perimeter around Bobbi Kristina's room shortly after she was taken to the hospital and there was a passcode to gain entrance. Many people in the Brown family were not given the code and it caused an uproar.

As one Brown family revealed:

"If something happens to Bobbi Kristina, we will not be treated like children."

And we're told the angry discussions are not being held around Bobby Brown. He's gotten wind of the talks several times and he immediately shuts everyone down.
Who does Bobbi Kristina love more? Her Daddy…Not The Houston's there is NOT one photo of any of them except for her mom, the late Whitney Houston.  At the time of the photos Bobbi Kristina wrote:
"#FamilyFirst…my face says it all.. 🙂 love you daddy!"
Take a look:
We don't blame Bobby Brown one but, Bobbi Kristina is his daughter and he has first rights to her over the Houston family.  Who do they think they are?  And where have they been for Bobbi Kristina these days? If you check her social media you would see that she is very close to her father and the Brown family. More so than the Houston family, so this is completely disrespectful to Bobby Brown, the father of Bobbie Kristina Brown. Yes Her last name is BROWN, Not Houston, and the inheritance will go to her father, NOT Nick Gordon or The Houston family, but we smell a fight coming from Cissy.
Sorry this whole situation gets up FURIOUS, because Bobbi Kristina NEEDED help and her relationship from what we were hearing was not the best no matter how much they "loved each other."
There have been no details yet on Nick Gordon and the foul play accusations. What we do know it that GAPD have issued a WARRANT for his arrest, according to multiple reports.