Bobbi Kristina Denies Bong-Hit Pic
Bobbi Kristina is at it again making headlines again posting a photo of herself hitting a bong, since she attacked  Angela Bassett for NOT casting her in the Whitney Houston biopic.
Since Whitney Houston tragic death, her daughter has become a tabloid conversational piece of drama, problems and controversy.
CelebNMusic247.com has come across this posting a photo of herself hitting a bong and wrote a rather interesting caption too. Wow maybe, Angela Bassett admitting that she didn't believe Bobbi was a real actress caused B Kristina to take the hit to get over it.
Bobbi wrote a rather interesting caption:
Accompanying the picture, which has since been deleted, the person claiming to be the 21-year-old wrote, "This picture may be inappropriate but I want to make a connection with you all. Don't worry this picture isn't recent just hear me out. Do you know what I feel? I feel strange I can't feel pain anymore. I don't take any drugs as of recently. Things just happened. But then there is so situation that force me to do things and the impact I'll feel pain. I did and I do. I was hurt.

"People kinda expect more from me. But I can't. I have lost my sense. It just happened. Then here we go again I'm in the same pain. I'm hurt. I'm trying to. I really do. But I know that I'm hurt and in pain but I can feel it but I don't know what it is. What do I really do? God, help me ignore and rebuke what these demons are saying, in Jesus Name. Amen."
When Bobbi Kris got wind of the photo making rounds in the media, she quickly denied posting the photo: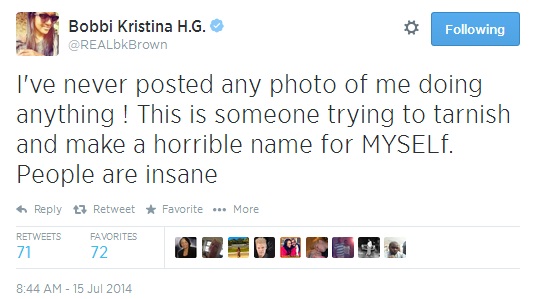 We have one thing to ask, then who took the pic because whoever it was used Instagram when snapping the show which uploads immediately to Instagram and Twitter. Plus they were using Bobbi Kristina's account so, why the denial?
Was Bobbi upset she got caught?
Thoughts?
Related articles