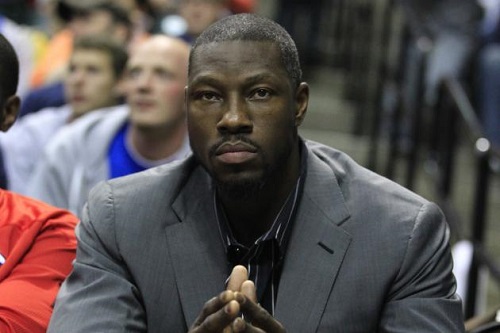 Former Detroit Pistons star Ben Wallace was arrested Tuesday for leaving the scene of a February car crash, and after pleading "no contest," he was sentenced to two days in jail.
CelebNMusic247.com has got the details of Wallace's arrest via CBS 6 in Richmond, Va., who reports:
According to the report from CBS 6, Wallace was originally given a jail sentence of one year. However, a Henrico County judge suspended all but two days of that sentence, which "Big Ben" began serving on Tuesday.

Wallace, who received a year of probation in 2011 after drunken driving and gun-possession charges, crashed his SUV through a wooden fence on Feb. 8. According to reports, he then left the scene of the crime on foot.

"It was dark, but it's clear from here I saw one person trying to fight to get out of the car," said the fence's owner, Silverio Acosta, via CBS 6?s Nick Dutton and Jake Burns.

Authorities later found an expired insurance card belonging to Wallace inside the vehicle, which led to him being charged.
Former NBA star Ben Wallace arrested, sentenced to jail after SUV crash http://t.co/2BHJXsR3gP via @CBS6 #breaking pic.twitter.com/hU0YIkf47M

— CBS 6 WTVR Richmond (@CBS6) March 18, 2014
We understand that the jusdge had him arrested, but did the judge ever think Ben might have been in shock. Not realizing what had happened?
That does happen sometimes.
Related articles