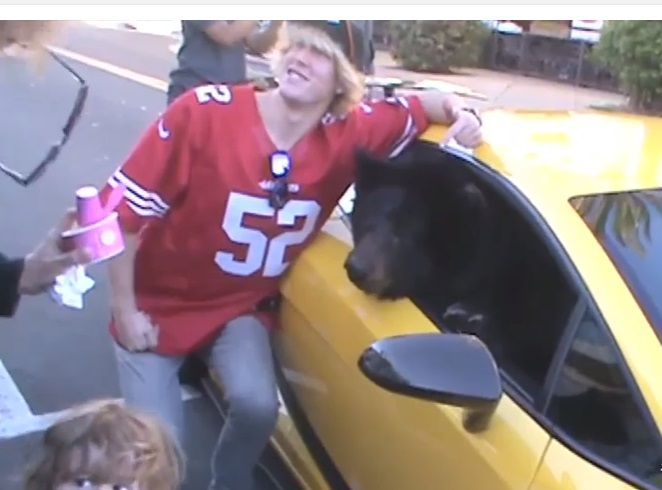 (CelebNMusic247-News) Bear in Lamborghini Stops Traffic in HB?
WTH? Traffic stopped in Huntington Beach as people were stunned when they saw a California Black bear in the back seat of a Lamborghini, so what else to do, but stop and take pictures!
Bear sightings have become a common occurrence in the Los Angeles foothills, but in Huntington Beach?
Passersby were stopped in their tracks this week at the sight of a bear peering out the window of a yellow Lamborghini near the beach city's Main Street.

Video footage shows a crowd form around the car, with spectators hesitantly running up to the window to snap a photo with the mellow ursine and give it a pat on the head. Some believed people were simply ogling the flashy sports car before noticing a furry head poking out the window.

"What's he eat?" one woman shouted.

"Why is there a bear in the car?" another person asked.

A photo of the spectacle posted to Reddit generated buzz, and user RandysWay claimed the Lamborghini and bear – Yogi – as his own, hinting at an upcoming video, which was posted to YouTube Tuesday.
Check the video:
Actually the bear was a prank on beach goers, but he looks so darn real!
Related articles