Bambi Spills The Tea On Erica Dixon?!?
Wait until you hear what Lil Scrappy's lady is saying about his baby mama and it's nothing nice when Bambi Spills The Tea On Erica Dixon.
Yes, Bambi is going in on Erica!
Child, CelebNMusic247.com can't believe the tea The Bam decided to spill in an open letter that she penned shortly after watching the Love & Hip Hop Atlanta 4 Reunion Pt 2.
Girl you better watch out Bambi's Compton side is showing!
Based on Lil Scrappy's girlfriend Bambi's latest Instagram post on her beef with the mother of his child Erica Dixon, it doesn't look too promising just yet. Bambi makes it clear that she wouldn't be addressing it anymore, but she managed to drop a few bombs like Dixon trying to make her a part of her story line by implying that she and Lil Scrappy's daughter did not like Bambi.
The Bam kicks off saying:
"That story line would have never worked because as you can see, that's a lie!"
[rpi]
It gets worse, for Erica that is, check out this open letter from the Bam Spilling all the juicy tea about Scrappy's baby mama, Erica Dixon: [NOTE the open letter has been removed from Bambi's social media.]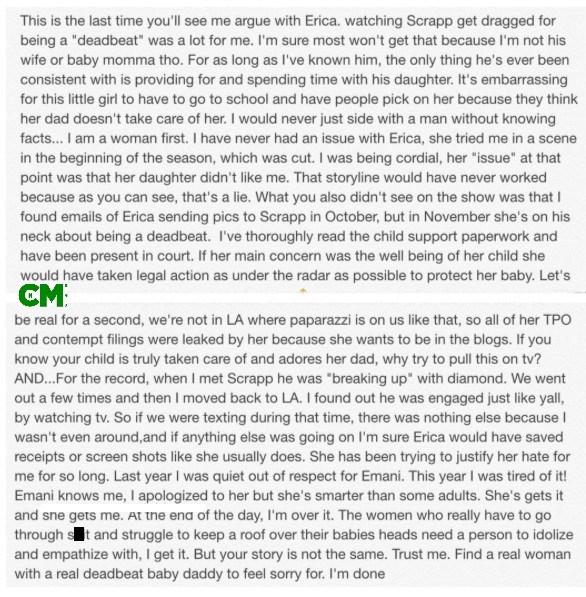 We will wait to see if Erica has a response…