Armie Hammer Makes Apology After Sexual Abuse Claims Surface!
The handsome Armie Hammer has more going on behind the scenes and ladies you don't want any of what he is serving. According to app founder Courtney Vucekovich briefly dated the actor after he and ex-wife Elizabeth Chambers ended their marriage last summer.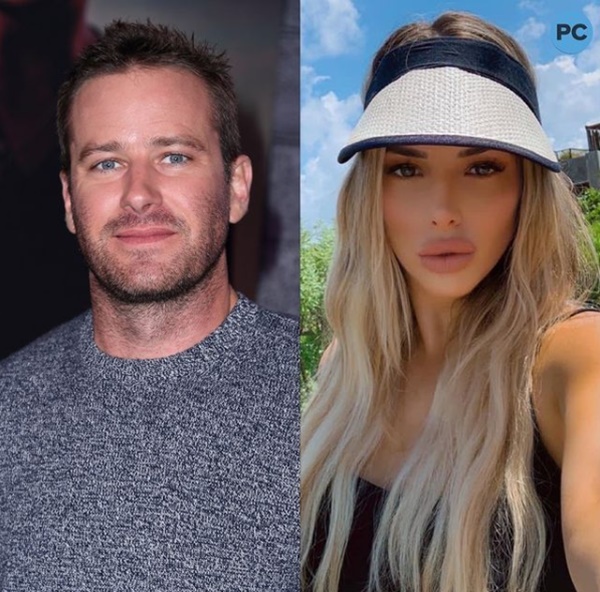 Now, Courtney Vucekovich has revealed that she checked herself into the hospital after only dating Armie Hammer for two months. The abuse was so overwhelming she ended up checking herself into a 30-day partial hospitalization program designed to treat PTSD and trauma. Read on…
View this post on Instagram
CelebnMusic247.com reports that Armie Hammer was verbally and graphically abusive to women telling Courtney Vucekovich that he wanted to eat her. And we mean exactly that.
Vucekovich explains how he told her that Armie Hammer wanted to break one of her ribs and then cook it and eat it while having sex.
He admits to being "100% cannibal!"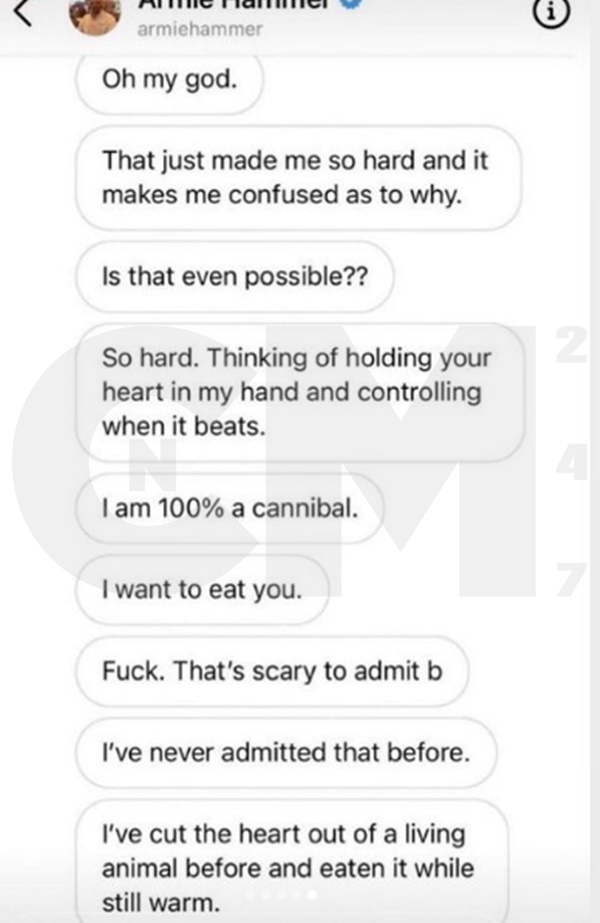 Yes, the man is twisted.
The Daily Mail found Hammer's finsta—that is, his secret Instagram for close friends—and published some pics and videos from it in which he talks about having sex, which can be great, and how much he likes doing drugs, which also can be great.
Get this, the Call Me by Your Name star has a private Instagram account — user name @el_destructo_86, which only has a mere 14 followers — where he allegedly posted about his drug usage and hooking up with different women, reports OKMagazine.
In one of the leaked social media posts, the actor showed a woman propped up on a hotel bed while wearing black lingerie. Many assumed it was "Ms. Cayman," as in another Instagram post, Hammer, 34, bragged to his friends about "f***ing Miss Cayman" again when he returned to the Cayman Islands, where he and estranged wife Elizabeth Chambers are living with their two kids amid the pandemic.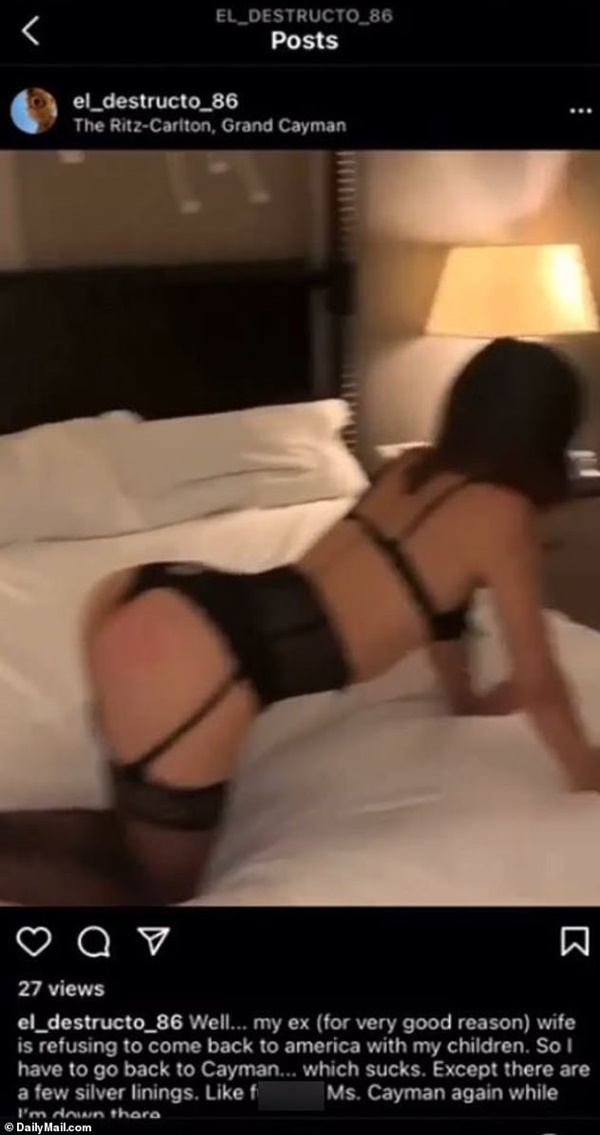 PageSix reports, that a major Hollywood publicist told Page Six people assumed Hammer was in an open relationship with his wife because of how he acted after he shot to fame in Call Me By Your Name.
The source said:
Women were texting him, chasing him – and when he would drink, that's when he'd run around. Everyone thought he and Elizabeth decided to have an open marriage.
Hammer's mea culpa came two days after the Daily Mail published photos and videos from his private Instagram page, including one of an unidentified woman on all fours with her backside to the camera.
He captioned the post, according to the newspaper:
Well… my ex (for very good reason) wife [Elizabeth Chambers] is refusing to come back to America with my children. So I have to go back to Cayman… which sucks. Except there are a few silver linings. Like f–king Ms. Cayman again while I'm down there.
Now, Armie Hammer issued an apology to Miss Cayman Islands:
Hammer apology reads as follows:
I would like to clarify that the person in my video, which was stolen from my private Instagram, is not Miss Cayman," the actor, 34, said in a statement to the Cayman Compass on Sunday, January 17. "I am genuinely sorry for any confusion my foolish attempt at humor may have caused.
He added:
My deep sympathies to Miss Cayman, who I don't know, and to the entire organization as I had no intentions of implying she was actually Miss Cayman.
The Call Me by Your Name star and Chambers, 38, split in July 2020 after 10 years of marriage. They announced the news while quarantining together in the Cayman Islands, where he grew up, amid the COVID-19 pandemic. The bakery owner and their children, Harper, 6, and Ford, 4, have since stayed in the Caribbean, while Hammer has traveled back and forth from Los Angeles.
Miss Cayman Islands Universe Committee released a statement:
After the Gossip Girl alum's "Ms. Cayman" video leaked, the Miss Cayman Islands Universe Committee released a statement to Us Weekly saying it was "very disturbed" by his caption:
[We] would like to confirm that the woman is not the reigning Miss Cayman Islands [Mariah Tibbetts] and has no affiliation to the Miss Cayman Islands Universe pageant," chairperson Derri Ann said. "The Committee and the reigning Miss Cayman regard this issue with the utmost seriousness and the matter has been reported to the Royal Cayman Islands Police Service (RCIPS).
The statement continued:
The role of Miss Cayman is in part, to serve as a role model to young Caymanian women. The depiction of the woman in the video goes against all that our organization stands for and the Committee is consequently requesting that Mr. Hammer immediately remove all references to Miss Cayman from his social media channels.
The RCIPS, meanwhile, revealed, that it "received an allegation of misuse of ICT [Information and Communications Technology], and that the matter is under investigation."
Armie Hammer QUITS Shotgun Wedding:
In addition, Armie has parted ways with his upcoming movie Shotgun Wedding, in which he had been set to star alongside Jennifer Lopez.
He stated on social media:
I'm not responding to these bulls–t claims, but in light of the vicious and spurious online attacks against me, I cannot in good conscience now leave my children for four months to shoot a film in the Dominican Republic. Lionsgate is supporting me in this, and I'm grateful to them for that.
Armie hammer photo gallery and proof he is out there:
Hammer is out of control when it comes to drinking, and drugs. He even posted photos of himself licking white powder out of a friends hands, drinking and being proud of passing a drug test.