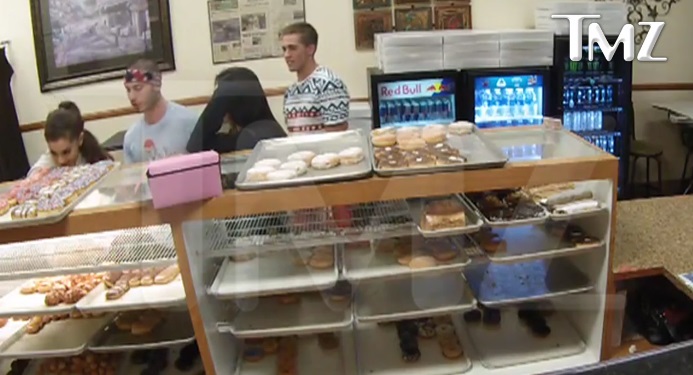 Ariana Grande Is So Nasty!!!
If you love Wolfee Donuts then you're gonna hate this video of Ariana Grande and her new beau. Ariana Grande Is So Nasty and if anyone bought any of those donuts they should sue her.
We understand being young and dumb, but this is disgusting.
Ariana is a celebrity, she NEEDS to learn that she can do stupid stuff like this anymore, because she is a role model and now some dumb fan will probably follow her lead.
She may call it pure pressure, but we call it stupid.
She obviously loves to put her tongue on things. First her tongue was all over Big Sean, now it's all over her new backup dancer beau and a few dozen donuts in a doughnut shop, called Wolfee Donuts in Lake Elsinore, CA. The doughnut shop says that the couple came in on Saturday, and decided to play truth or dare with the goods — daring each other to lick powdered jelly donuts on the counter.
Hard to tell if their tongues actually make contact, but our sources in the shop say it was definitely too close for their liking — especially since Ariana pulled the stunt when no one was looking, and they would've tossed the contaminated donuts if they knew.
Wolfee Donuts owner Joe Marin says:
"Yes, I'm upset."

"We sold those by accident to other people and didn't catch it until hours later."
The 24-hour doughnut store is a favorite among locals and they pride themselves on their savory treats, so Joe was absolutely horrified when he watched the tapes back and saw Ariana and Ricky "licking and spitting" on three donuts before putting them back on the counter.
"I want an apology."

"We are reaching out to the customers but it wasn't until the next morning when I watched the tape that I caught them licking and spitting, I call it spitting on the doughnuts."
He is DEMANDING that the NASTY @SS Ariana makes a public apology.
Watch:
Since the video surfaced, Ariana Grande has apologized for being straight up NASTY!