In the #ERA of the #MeToo Movement, comedian Amy Schumer and model Emily Ratajkowski was arrested.
Both ladies were voicing their opinion of Donald Trump's nomination of Brett Kavanaugh, an alleged sex offender, for the highest position in the Supreme Court.
By now everyone on the planet knows about Brett Kavanaugh and the sex allegations against him. Everyone more than likely knows that Brett Kavanaugh has continued to deny it all claiming he was a virgin at the time of the sex allegations.
Read on to see why Amy Schumer + Emily Ratajkowski Arrested…
You're joking, right?
"Arrested?"
I watched the cops walk up to you and ask politely if you wanted to be arrested. You & Amy Schumer said "yes." Then you both just sat comfortably on the floor until the cops gave you special wristbands & politely escorted you out

I have video. https://t.co/J5RiZ3CPkL

— Benny (@bennyjohnson) October 4, 2018
CelebNMusic247.com reports that Comedian Amy Schumer and model Emily Ratajkowski have been arrested for their involvement in the protest against alleged sex offender Brett Kavanaugh.
Both Amy Schumer + Emily Ratajkowski were part of boisterous speaking engagement-protest held outside a US Senate building in Washington, DC.
in the video, above you can watch Amy Schumer, who was leading the discourse, shows her verbally consenting to her own arrest. Youcan also see in the video the arresting officer leads her through the rapidly-dispersing crowd.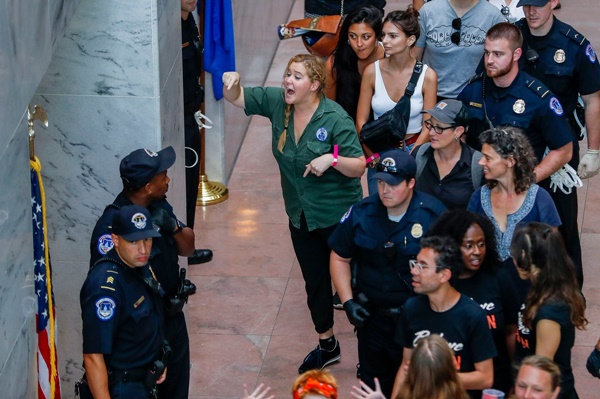 The comedian wasn't alone in receiving her marching orders, it is believed that 300 other individuals, including Emily Ratajkowski, were arrested during the mass protest.
Amy posted a series of snaps in protest on social media:
View this post on Instagram