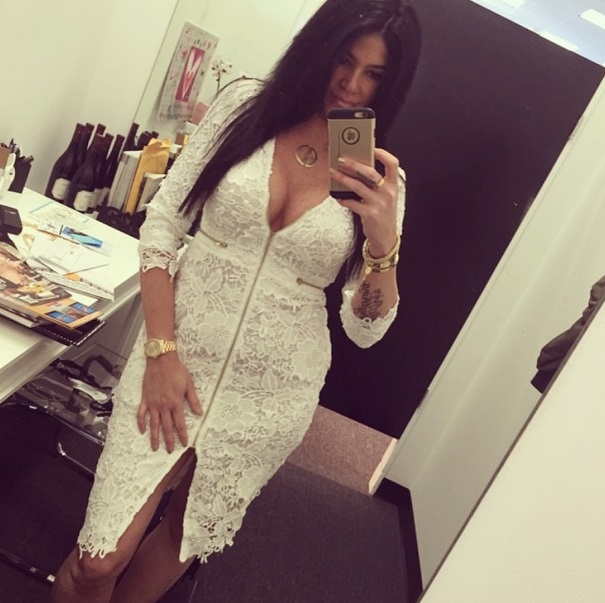 Alicia DiMichele Weighs In On Nat G & Mob Wives Reunion?!?
Alicia Doesn't Need Natalie To Fight Her Battles but now after the heated argument on Mob Wives Reunion Alicia DiMichele Weighs In On Nat G & Mob Wives Reunion.
Alicia DiMichele makes it very cleat the she left Mob Wives to focus on her family. She was tired of the drama and stress of the show. She has larger goals than being on TV after being embroiled in some very real legal matters during her stint on season 5.
However, Alicia's name came up during a heated argument between Natalie Guercio and Karen Gravano over a social media feud because of Karen and Alicia's pre-existing beef. CelebNMusic247.com has some hot tea via VH1, who chatted with Alicia to find out what she made of Karen's comments, if she and Natalie G are really best friends, and if she'd ever make like Carla and return to the series.
Here is snippet from last week when Nat G brought up Alicia's name on the reunion:
Natalie Guercio made it clear that she was fighting for her friend Alicia DiMichele on the Mob Wives Trust No One Reunion Pt 1, but Alicia breaks it down.
[rpi]
She makes it clear that she doesn't NEED Natalie to defend her or fight her battles. And wait til you find out who here best friend is, because it's NOT Natalie.
At the filming of the season five reunion, Natalie Guercio said you are her best friend, is that true for you, as well? What kind of friend is Natalie?

Alicia DiMichele: As far as my best friend goes, it has always been and always will be my brother. Natalie is a dear friend of mine and I consider myself lucky to have her in my life. I've never asked her or anyone to fight my battles for me. She has her own opinion and is entitled to it and as her friend I support that.

Did you see that you were the topic of conversation in part one of the reunion? Have you been watching this season at all?

In all honesty, I have been so busy working taking care of my family, my business, and myself that I was only able to catch bits and pieces of the season. Everyone knows that I quit the show for my family, so I don't know why I would be brought up unless it was related to that.

Karen said that you don't like her because her father killed your father-in-law. What is your version of that story?

I don't blame Karen for what her father did. Karen can only be held accountable for her own words and actions [like] how nonchalantly she spoke of my father-in-law's murder, as if it was not a tragedy for my family. To think that just because I never met my son's grandfather that I would not be personally affected by that event is ridiculous.

All of the stories of his life that have been shared with my children and me have all painted him as a wonderful person and it makes me sad to know that my children and I never had the chance to meet him. I made the choice to remove myself from the show and that drama because my family and my business mean way more to me than being on television.

This whole season has been all about separating the person from the sins of their family, do you think you could ever be friends with Karen despite her father's actions?

Karen and I are two totally different people and because we don't see eye to eye on our family histories and we have different view points on the situation, it feels like there is too much there to overcome to build a friendship. Had words or actions between us played out differently, it might have been possible, but for where things stand now I choose not to let that negativity into my life.

You became close with Drita last season, did it surprise you that she seemed to turn against Natalie?
As I've said before, I didn't really get a chance to watch this season in its entirety. However, after having spent time on Mob Wives, nothing that happens on that show would surprise me.

Carla Facciolo returned this season for a couple episodes – did you ever meet her? Would you ever come back to the show like she did?

I've never had the pleasure of meeting Carla, but I'm sure that her return to the show made sense for her at the time. For me and the path that my life has taken since the show I can't really see a time where me coming back would make sense. I have new goals and aspirations and in order for me to accomplish those goals, I will have to continue to look forward and not backward.