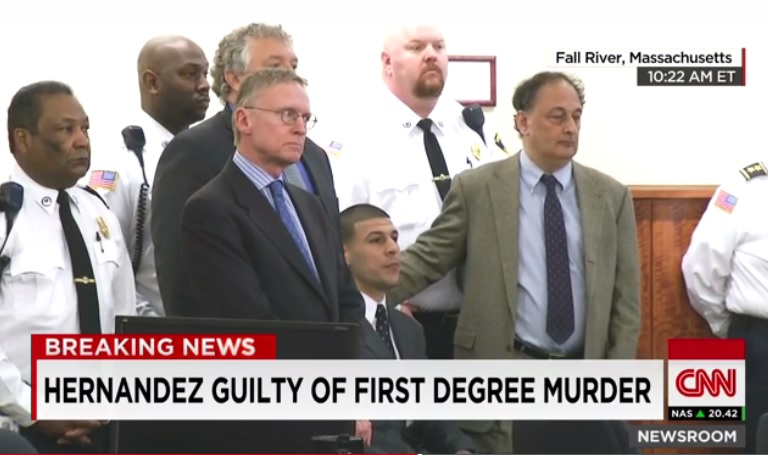 Aaron Hernandez Sentenced To Life In Prison!!!
BREAKING: It's official Aaron Hernandez Sentenced To Life In Prison for the murder in the first degree of Odin Lloyd which took place in his Aaron Hernandez home.
We are actually shocked that he got life in prison. Can you believe he went from NFL fame with the New England Patriots and threw it all away landing life in prison?
We had previously reported that Aaron Hernandez tattoo's contained clues to murder, but Boston PD were able to tie in Hernandez to the murder with text messages and phone calls on his cellphone.
CelebNMusic247.com has this report via CNN:
[rpi]
Former New England Patriots star Aaron Hernandez looked on impassively Wednesday as he was sentenced to life without the possibility of parole, a new low for a young man who once enjoyed a $40 million pro-football contract and now stands convicted in the 2013 murder of onetime friend Odin Lloyd.

Hernandez, 25, appeared to shake his head "no" earlier as jurors in the Massachusetts trial found him guilty of first-degree murder. He was also found guilty of unlawful possession of a firearm and unlawful possession of ammunition.

At trial, the defense team described Lloyd, a former semi-pro football player, as Hernandez's "bluntmaster" — his purveyor of marijuana — and his future brother-in-law. But in victim impact statements, Lloyd's relatives portrayed him as a loving son and protective brother, as a man who rode his bike 10 miles to work and wore the same flip-flops for 12 years

The former NFL star, who will not be eligible for parole, was sentenced to life for the murder of Odin Lloyd.

All you could hear was sniffles as there wasn't a dry eye in the courtroom as Lloyd's family gave their emotional victim impact statements

Lloyd's sister, Olivia Thibou, told the court:

"These last couple of years have been the hardest time of my life. At the age of 25, I was asked to write my brother's eulogy. It was the hardest thing I have ever done in my life.

Then a teary-eyed Ursula Ward, Lloyd's mother, went next, saying:

"Odin was my only son."

"The day I laid my son to rest, I felt like I wanted to go into the hole with my son, Odin."

Ward continued:

"I will never get to have grandchildren from my son."

"I will never get to dance at his wedding. I will never again get to hear him say, 'Ma, you're beautiful, I love you.' I forgive the hands of the people who had a hand in my son's murder," she said. "I pray and hope that someday, other people will forgive them also."
Let us not forget Aaron Hernandez is due back in court later this year for a 2012 double murder which he can appeal his conviction.