50 Cent has been beefing on and off with Teairra Mari for nearly a year, and she is still ghosting him now that she owes him $30K!
Continue on because 50 Cent is still coming for Teairra Mari...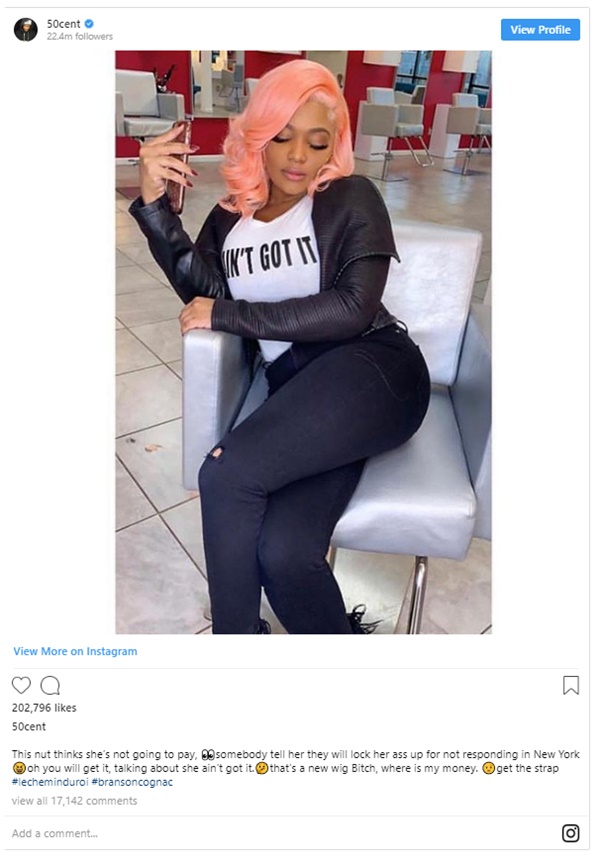 CelebNMusic247.com report 50 Cent is done with the Love & Hip Hop star Teairra Mari, who took him to court for a revenge porn lawsuit which was technically against Teairra's ex-boyfriend Akbar.
50 Cent reposted the Instagram post and added some of his sauciness to the video, so Mari included him in the lawsuit. It ended up that Akbar Abdul-Ahad and 50 Cent won and Teairra Mari has been ordered by the court to pay up. Basically, Fif actually ended up bringing home the win, being granted $30K from Teairra's bank account.
That decision was made months ago but for some reason, the LHHH reality star still hasn't paid up and 50 Cent is getting more and more frustrated.
50 Cent took to Instagram once again to BLAST Teairra Mari in hopes she will get the memo and pay up.
He writes:
This nut thinks she's not going to pay. Somebody tell her they will lock her ass up for not responding in New York. Oh, you will get it, talking about she ain't got it. That's a new wig Bitch, where is my money.
In the photo, Curtis suggests that Tea Tea is wearing a pink wig from a few days ago. Clearly, she's got enough money to maintain her appearance so 50 is having trouble understanding why he hasn't gotten his money yet?
WTF Teairra?