50 Cent RIPS Woman Accusing Rick James of Rape!
Who waits 41 years to accuse someone of rape? This whole #MeToo Movement is really digging up trolls and bootlickers trying to cash in on someone after they've died. We guess she believes this is an easy come up? Read on since 50 Cent is questioning the woman accusing Rick James of rape…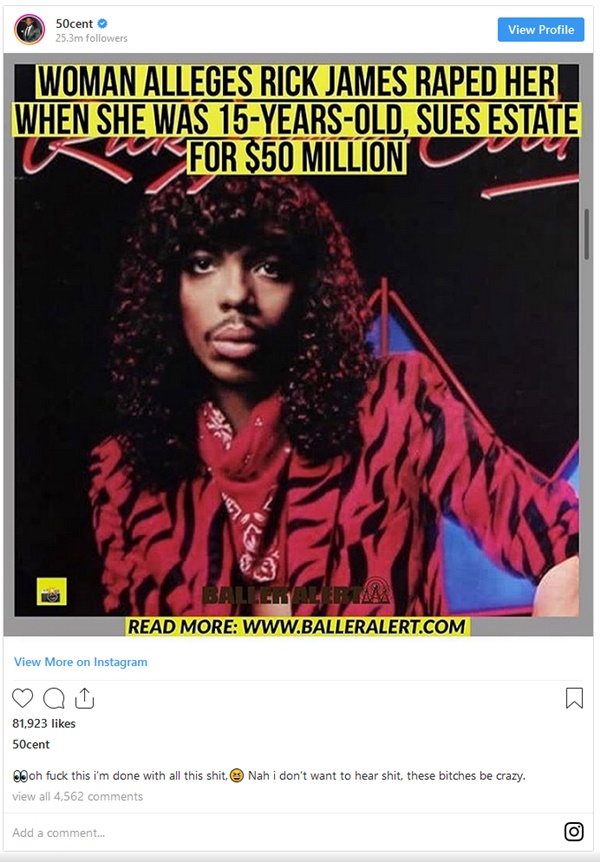 CelebNMusic247.com reports that 50 Cent was not thrilled to learn that the estate of Rick James is currently fighting rape allegations.
50 Cent found out about the news on Monday, he took to Instagram where he questioned the accuser's sanity.
Fiddy writes:
Oh fuck this i'm done with all this shit…Nah i don't want to hear shit, these bitches be crazy.
50's response to the situation started to gain attention with several publications picking up his post as a story.
He continued his FACTUAL onslaught saying:
Come on now…who waits 41 years to file a complaint, i'm sorry this is bullshit bye!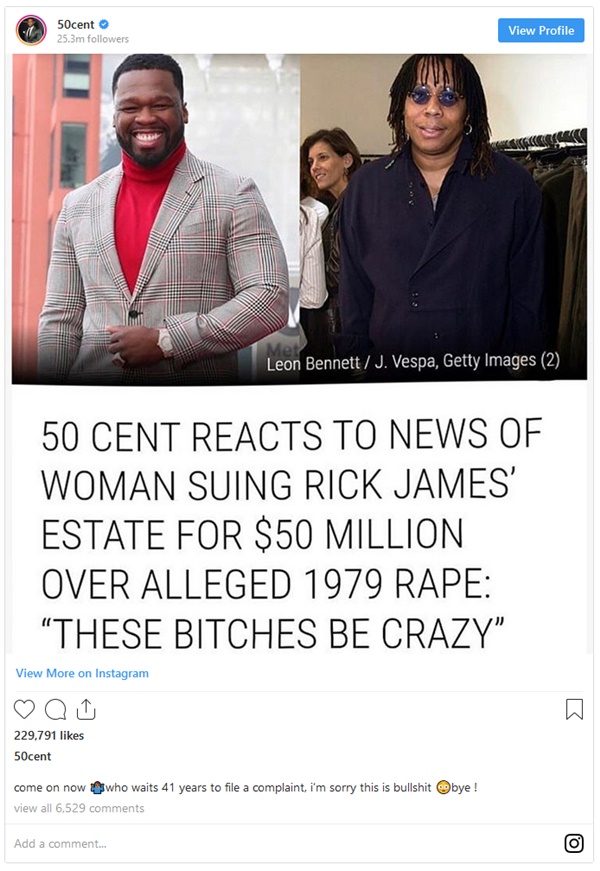 The woman accusing Rick James of rape wrote in the affidavit filed in Erie County Supreme Court.
Almost immediately, Rick James was very suggestive and inappropriate towards me. As I was laying on my belly on my bed, Rick James came into my bedroom and swiftly laid on top of me. He grabbed my hair and pushed my head into the pillow. I tried to fight him off, but he told me, 'Shut up and quit moving or I'll cut you.' He violently ripped off my underwear and proceeded to violent rape me and ejaculate inside of me.
On Monday, the Associated Press reported that James' estate is facing a $50 million lawsuit from a woman who claimed she was raped by the singer in 1979. Per the report, the woman says James assaulted her when he visited the youth detention center she lived at as a 15-year-old in Buffalo, New York. She alleges that she didn't know who James was at the time of the incident.
We are questioning her too? Why did you wait 41 years to accuse the man of rape? What life didn't turn out the way she wanted so this is her come up. There NEEDS to be laws on the #MeToo Movement since women are abusing this movement.