What the Young Buck is going on here? 50 Cent CLAPS BACK at a website for reporting some totally FAKE NEWS.
FYI, we have spoken with 50 Cent in the past and he is NOT homophobic in anyway shape or form. Get your facts, right people. Read on to see what 50 had to say about this FABRICATED report…
CelebNMusic247.com has the latest from 50 Cent who recently had to check a website for making up shhh about him.
If you recall, someone posted one of the most hilarious photos of 50 Cent looking like Tekashi69's big brother, 5069.
The G-Unit head honcho thought the photo was funny so he jokingly said:
Who did this ? I want you n****s on the internet dead? F**k everybody.
Well, a certain website (GayStarNews.com) who decided to take his joke and completely twist it out of context knowing nothing about the rap star or his history.
Fiddy wasn't too pleased so he FIRED BACK with some common sense stating:
?So now they're saying I'm homophobic and making death threats because I joked about being mad at a picture of me as 69. ?what the fuck, I love gay people I get bitches to kiss each other all the time?????and I like it. Nah for real get the fuck outta here with this. ?Get The Strap #lecheminduroi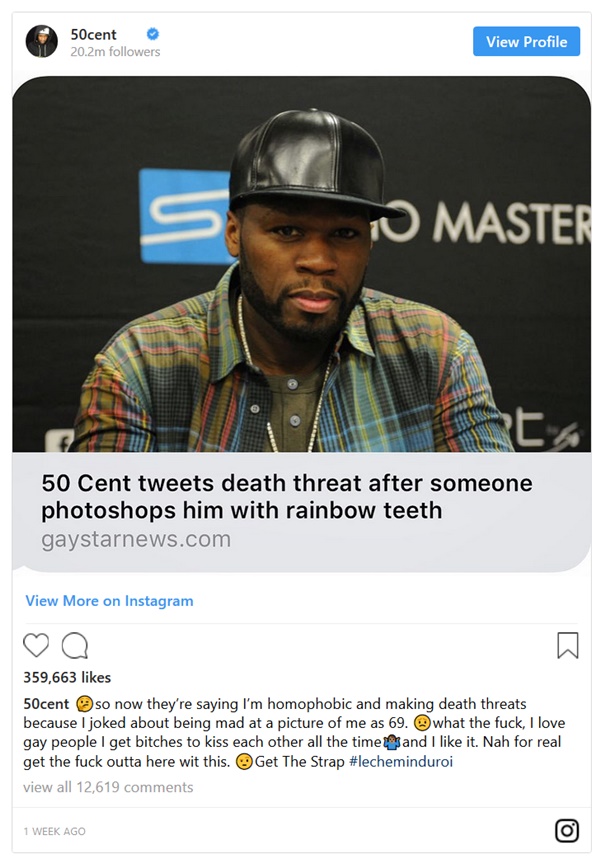 Does anyone actually believe that 50 Cent is mad about this? He is just baffled but still laughing at himself. You go #59!