50 Cent took to Instagram to tell all the fans that he is sick and tired of all the backlash about the new remix of "Big Rich Town" featuring Trey Songz, so he's OUT!
The Power creator took to social media to let everyone know he's done with all that trolling and it went for the three day holiday weekend. Read on since 50 Cent Power Theme Backlash continues…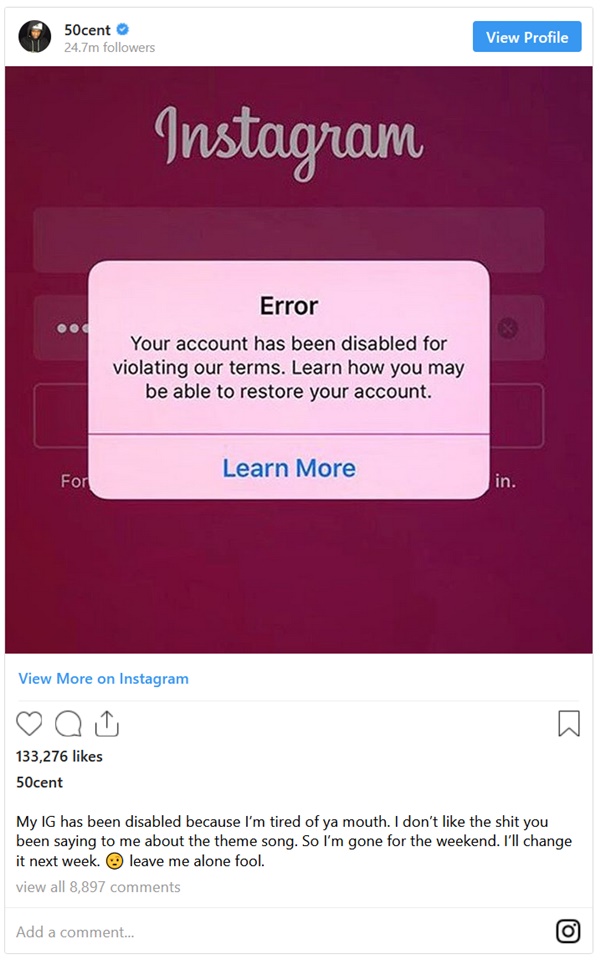 CelebNMusic247.com has the latest from 50 Cent who took to Insta this morning to let everyone know that he has disabled his comments for the weekend so he doesn't have to hear about people complaining that the Power Theme SCUKS!
50 Cent writes:
My IG has been disabled because I'm tired of ya mouth. I don't like the shit you been saying to me about the theme song. So I'm gone for the weekend. I'll change it next week. ? leave me alone fool.
Since the premiere of Power last week fans have been less than pleased with the new remix of "Big Rich Town."
In fact many Power fans have took to Twitter to let 50 know how they ain't feeling the Trey Songz version and want back the original.
We agree, the new version which Fiddy stated was "something you could dance to" lack the grit and impact of Power and now with Angela dead maybe it makes sense. Because the theme used to get you pumped to watch the series and now its more like "you can take it or leave it."
Whatdo you think about the "Big Rich Town" remix? Love it or hate it?
Let's NOT forget 50 Cent is filming BMF as Power comes to a close: