Yesterday, 50 Cent unleashed on BET star Jackie Long on Thursday letting him know that he owed him some money publically.
Now, 24 hours later 50 Cent and Jackie Long have squashed back-and-forth spat on social media…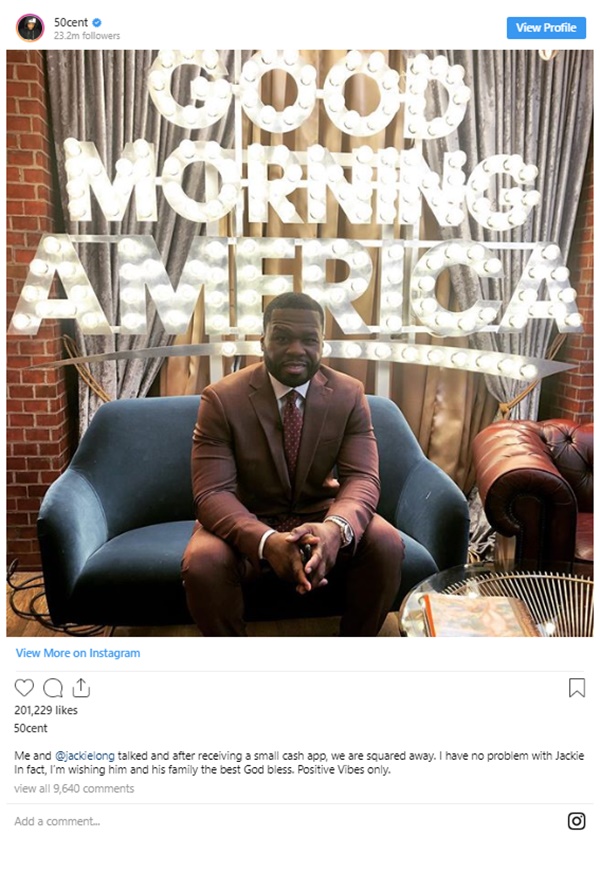 CelebNMusic247.com reports that has accomplished his goal and that was to get his money back from Jackie Long.
On Thursday, 50 Cent bullied BET actor Jackie Long over a couple hundred bucks calling Jackie a "punk ass n—a" and that he "better give me my money."
He warned Jackie to have his money by "Monday fool."
During the social media bullying by Fiddy, Ray J and Nick Cannon got involved so Curtis Jackson FIRED some extra warning shots at them.
First, he BLASTED Ray J saying "I'm not like you ray you let @kimkardashian run off wit all the fucking money."
Then, he went in on Nick Cannon, warning him to "stay outta my business punk"
On Friday, Fiddy posted a picture of himself on the set of Good Morning America where he squashed his short-lived beef with Long.
He said:
Me and @jackielong talked and after receiving a small cash app, we are squared away. I have no problem with Jackie. In fact, I'm wishing him and his family the best God bless. Positive Vibes only.
Then, Jackie posted this and 50 is like WFT?
Mr. Jackson writes:
LOL you gave me the money why you put this video up man we cool, you my boy!
Check it:
Then he went back to Buck with this hilarious Family Guy meme directed at him.