The Boxer vs The Hip Hop Veteran Round 3: 50 Cent Just Hit Mayweather with a Left Punch!
Floyd Mayweather thought he was getting at 50 Cent with another gut-punching hit on Instagram.
Unfortunate for Floyd, because 50 Cent hit Mayweather with an insane left punch to his temple to knock his memory back in tack! Read on…
CelebNMusic247.com has another day of Instagram boxing between former friends Floyd Mayweather and 50 Cent.
It has become the pettiest fight this summer, yet it's still entertaining to see how to 40 something-year-olds are fighting like an old married couple.
Why 50 Cent hit Mayweather:
We get it, they have dirt on each other, but damn, this is getting so petty. But who are we to complain, we just hear to report on it and show everyone that both of these guys are full of sh*t according to Floyd Mayweather and 50 Cent.
Floyd tried to come for 50 by comparing his net worth to the value of the over prised watch he purchased. #SAD that Mayweather hasn't learned that he doesn't have to brag and show off material items to make himself feel like he's rich. Help people, do some philanthropy. Instead, Mayweather makes statements that are just petty
Today, Floyd Mayweather said:
You're Not Supposed To Be Beefing With Me. You're Supposed To Be Beefing With My WATCH. I And You Are Not On The Same Level!!!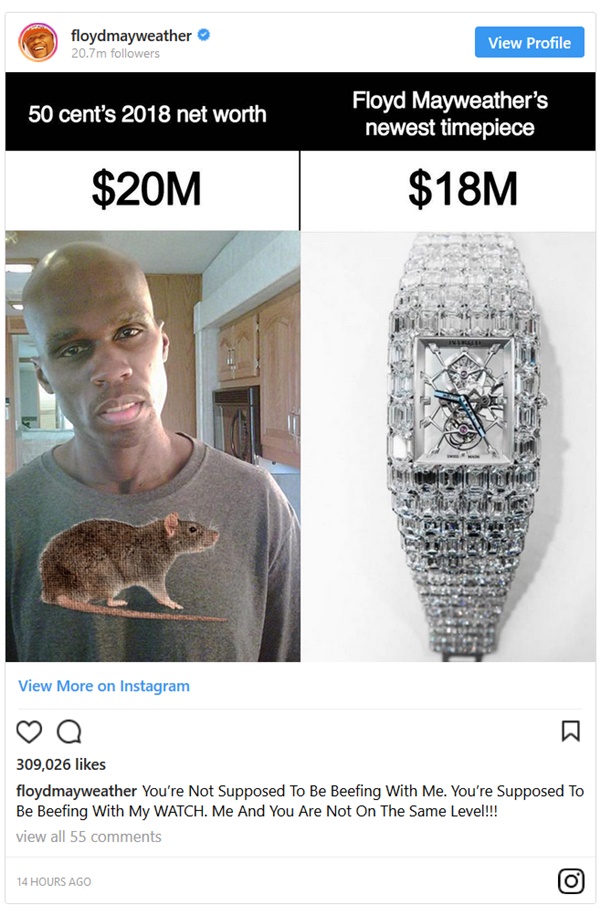 Why did 50 Cent hit Mayweather with a left hook?
50 Cent put Mayweather on blast for the stupid $18 million dollar waste of a watch. Who cares about it. Who is dumb enough to waste the same amount of money a person could buy a mansion with on watch?
Just because you have it doesn't mean spend it like an idiot. That is some real new money ish. #SMH
Here is what Fiddy said:
Remember this post please because champ can't afford to buy this watch right now. He makes up shit I knew he never brought the watch, he still is running around fronting. Smh???? he thinks people stupid, the gambling and girls get him every time. he will be back hosting party's for 10k ??get the strap
For more backstory on the feud that started on Saturday CLICK HERE…
See how the retired boxing champ reignited this petty feud over at CelebNSports247.com…
For the record, Floyd Mayweather, Jr.'s net worth range from $700 million to nearly $1 billion as of January 2018.