Power creator and G Unit leader 50 Cent I did it again!
Some may say that 50 Cent went too far this time when he called out Atlanta, but there's some truth in his joke. Continue on to get the tea spilling on 50 Cent Controversial ATL IG Post…
CelebNMusic247.com has the latest about the 50 Cent Controversial ATL IG Post.
50 Cent called out Atlanta when saying:
LOL Atlanta is outta control, it's 7 women to 1 man down there because the boys want the boys.
He added:
Don't worry ladies I'm on the way. LMAO.
Fiddy is speaking the truth about Atlanta since it's the city know for the most DL men or we guess these days they're calling themselves, pansexual.
Basically, a pansexual man is a married man who is openly fluid when it comes to smashing women and men.
For years, it's been known if you're a black man or love black men, Atlanta is the best city to meet other men loving men. It's no secret, that's why 50 made the joke…err body knows whats going down in the A, and its a whole other type of Love & Hip Hop!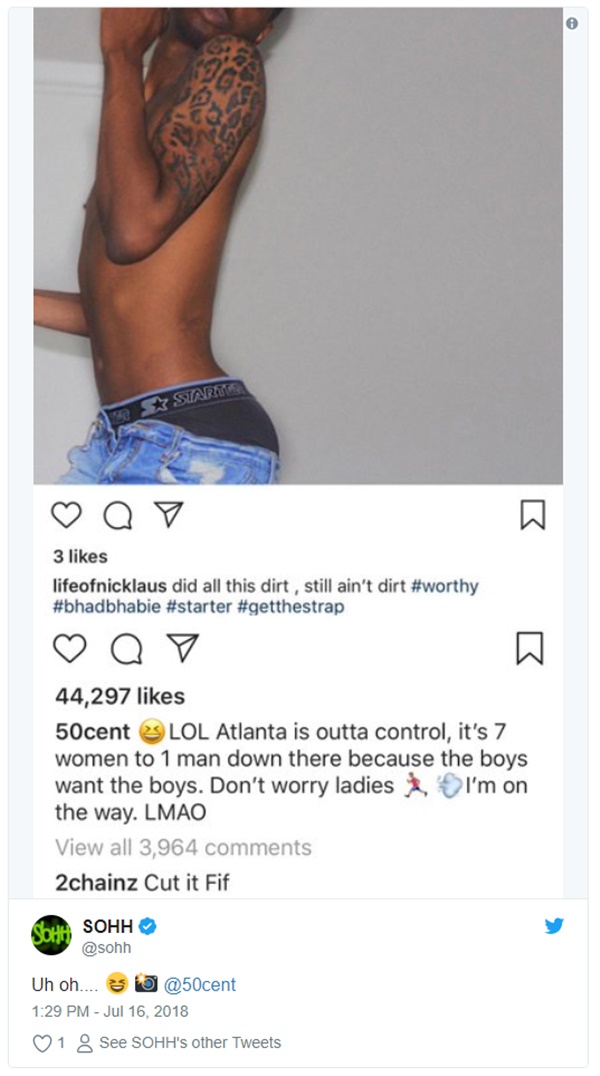 Of course, hip-hop native 2 Chainz did take kindly to 50 Cent Controversial ATL IG Post at first.
He replied:
Cut it Fif
50 weighed in on Tity Boi reply saying:
LOL 2Chainz said nah Fif you can't do us like that, there do be some f**k sh*t going on. Get the strap.
The "Candy Shop" rapper added:
TRUUUUU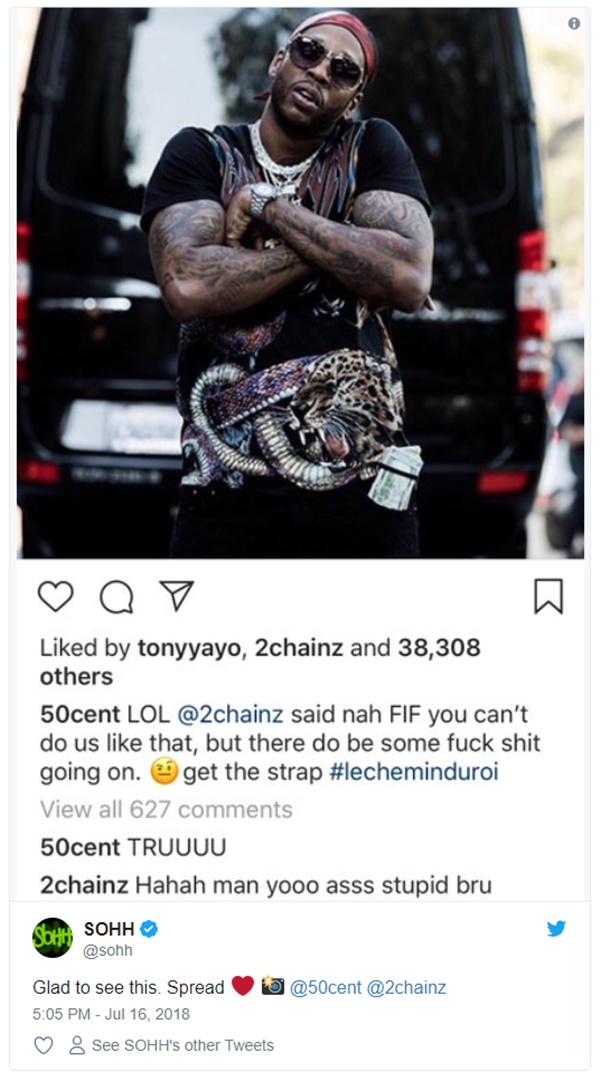 2 Chainz replied 50 Cent Controversial ATL IG Post:
Hahah man yooo asss stupid bru!
What do you think about 50 Cent's jokes about Atlanta having lots of boys liking boys?
Despite the jokes from 50, did you know that Atlanta tops the list of cities where African-Americans are doing the best economically?
According to Forbes:
Some 46.9% the metro area's black population owned their own homes as of 2013, well above the 38% major metro average for African-Americans. Atlanta's African-Americans have a median household income of $41,800, also considerably above the major metro average, while their rate of self-employment, 17.1%, is second only to New Orleans.
What do you think about 50 Cent Controversial ATL IG Post getting Deleted?
For more music news stories on the G Unit leader CLICK HERE…