When it comes to City Girls, Yung Miami is making sure that JT is looking so fresh so clean dripping with new bling.
Yeah, it happened, we rhymed with all that, but on the real, Yung Miami is hooking her girl JT up with a sick chain…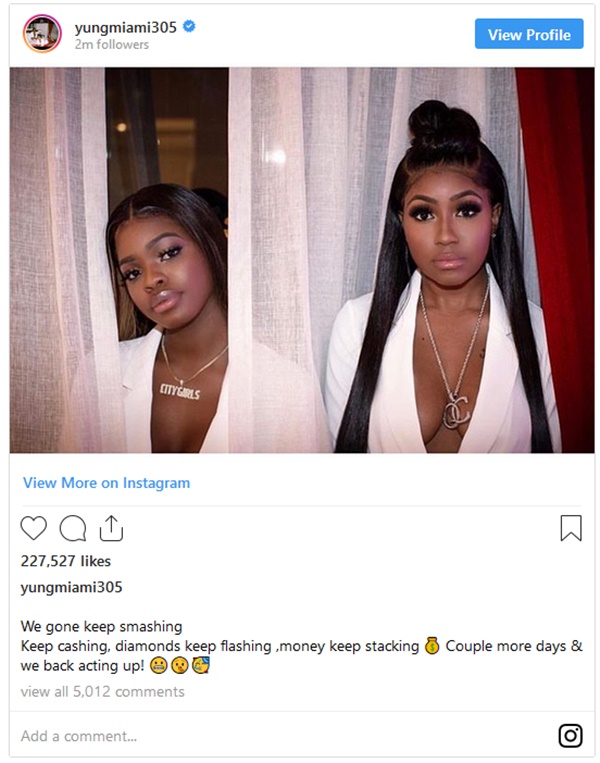 CelebNMusic247.com has the latest from City Girls, Yung Miami who took to social media to show off the shine JT is about to get when she steps out of prison.
Yeah, that's right City Girls fans, real friends shine together.
To Recap: Yung Miami's partner, JT, served time in prison after her arrest on charges of aggravated identity theft back in 2018. It's alleged that between September 2016 through April 2017, JT spent more than $1,000 using three different people's credit cards and was sentenced to 24 months in a Tallahassee prison.
JT was denied early release from prison back in May, but on Aug. 20, Yung Miami announced that her partner would be home in a "couple more days."
Over the weekend, Miami was spotted showing off the drip on her social feed.
She said:
Just cop my b—a chain to match mine @thegirljt. Thank you @jewelryunlimited.
According to Jewelry Unlimited, they were commissioned by Yung Miami and their producer, Southside, to make the signature piece with matching necklace filled with baguette diamonds.
Soon JT will be able to rock the drip running down her neck.