What has Waka Flock Flame been up to these days?
Despite the news that Uncle Sam is ready to put a lien on all of the "Hard in the Paint" rappers property and assets, He recently admits that he's lost interest in music. In addition, Waka Flock Flame speaks on relationship with wife Tammy.
The former Love & Hip Hop Atlanta cast member Waka Flock Flame took to social media in a series of Tweets revealing that he's "lost interest in music," and how he "didn't give up #Tammy." Read on…
CelebNReality247.com reports that Waka Flocka showed signs of having issues with his label in August in a series of tweets, he revealed some tea about the fate of his music.
Waka Flock Flame started off saying this about label pressure:
If you so rich, why let your label pressure you to drop another album?? L I V E just make sure people don't forget. I don't have half the hits but I bet any amount of money my accounts say I'm a diamond artist ?
Juaquin James Malphurs, better known as Waka Flocka added:
I apologize to all my fans, I just lost interest in music these last four years.. being a husband and father 2much fun and it's different #HopeYallUnderstand Just know I'm in one hell of a spot and enjoying every second #ThankyouYall #YallMadeThisPossible
Then, Waka thanked Mona Scott-Young for her part in his success saying:
I wanna take this time out my day to say thank you, Mona Scott, thank you!!! One dope ass women ? keep climbing #BlackWomenRock
Waka Flocka Flame didn't stop there, he went on to say:
One of the hardest decisions you will ever face in life is choosing to walk away or try harder.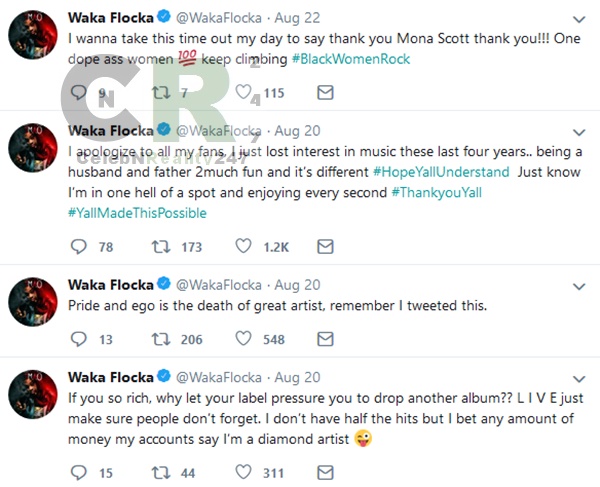 He seems to be going through some things, on Monday, Waka started talking about his relationship with his wife Tammy Rivera Malphurs.
Flocka Flame, who didn't give up on the woman he loves had this to say:
Sometimes we think that if we have sexual relations with someone, we'll feel less alone. But the truth is that sexual relations don't relieve loneliness. The genius thing we did was we didn't give up #Tammy