VH1 Refuses to Cancel Sorority Sisters!?!
Earlier this week advertisers announced they were pulling their ads on VH1 until  Sorority Sisters is cancelled but VH1 Refuses to Cancel Sorority Sisters.
It was reported by Vibe that VH1's latest controversial reality show, Sorority Sisters, has raised some unwelcoming responses to the newest series from the Love and Hip Hop creator.
[rpi]
Sorority Sisters has basically OFFENDED members of fraternities and sororities, who note the negative portrayal of black Greek organizations. And now they are paying for it. Literally.

The series is falling into the ratchet TV category being presented in a similar fashion as Love & Hip-Hop.

Sorority Sisters features the same melodramatic rifts between cast members as its equally controversial counterpart. Enacting the hashtag #BoycottSororitySisters, Twitter users expressed their discontent with the show and called attention to advertisers.
Now, companies such as Carmex, Hallmark, Honda, and Crayola have all pulled their ads from the network during episodes of Sorority Sisters: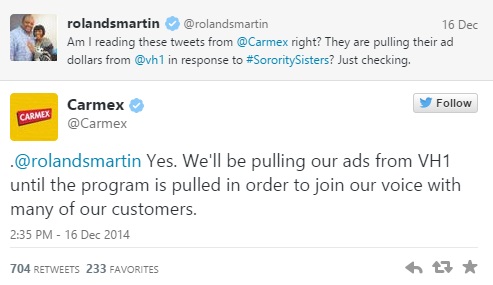 Black Greek organizations are fuming since VH1 refuses to pull Sorority Sisters:
Well VH1 has given their response to the request of the advertisers and apparently the answer is NO! Despite petitions being launched to boycott the show after many Sorority and Fraternity members and alumni have weighed in on the ratchet look at black Greek life it appears VH1 is shrugging their shoulders and dusting off the petitions.
Word is, Mona Scott-Youngs' newest reality TV series is causing some major backlash with fans and sorority alumni who are more than offended by the new VH1 series. Does Mona forget that many advertisers are Sorority and Fraternity alums?
Here is what CelebNMusic247.com has heard from TheJasmineBrand who reports:
In addition to a boat-load of signatures sharing their displeasure, a few advertisers have pulled their dollars, noting that they wouldn't air during the show. Honda, Carmex, Hallmark, Crayola and others have Tweeted their followers, announcing that they would not advertise during the time slot.

Despite some advertising pulling out, the network has no intention of canceling the show. In an emailed statement to the Washington Post, VH1 said that the premier was seen by 1.3 million people and it was the number one non-sports cable program in that time period among women ages 18 to 49.

The network said through a spokeswoman:

There are currently no plans to change the series and it seems to be connecting with its audience….Due to the confidential nature of our agreements with our advertising partners, we never speak to specifics about clients and their media plans…But we do enjoy successful, long-term partnerships with our advertisers and are happy to honor any requests to move spots to other parts of our schedule.
Related articles