Uncle Murda Rips Oprah; K. Michelle; Tank; Tekashi69 In "Rap Up" 2019!
Brooklyn rapper Uncle Murda recapped 2019 with a banger in the form of his "Rap Up" today (December 31st). Read on…
CelebNMusic247.com has to give it to rapper Uncle Murda with his "Rap Up" 2019.
Uncle Murda's "Rap Up" 2019 is one of his best end of year wrap-ups with his street perspective to recap the last 12 months.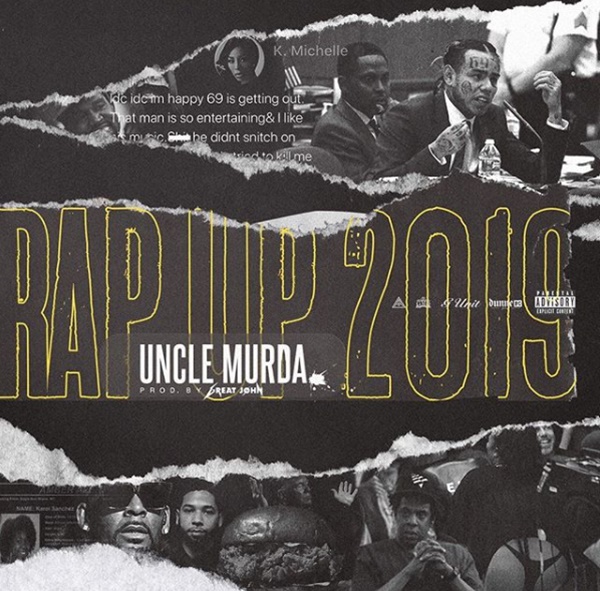 This year Murda's "Rap Up 2019" clocks in at a whopping 10 minutes and 18 seconds.
Leonard Grant, 40, better known as Uncle Murda starts off his record with some "disrespectful" bars aimed at K. Michelle's vagina.
Then he trashes Tekashi 69 for snitching, pays homage to Nipsey Hussle, and calls out Tank for sucking D–K makes him gay.
But his lyrical arsenal continues dissing Tyler The Creator's gay fans for booing Drake, calls on R. Kelly to get raped on and pissed on. Then he calls Love & Hip Hop Hollywood's Fizz boo Apryl Jones a whore and claims Kanye West is only using Sunday Service to make money.
He fires shots at Jussie Smollett saying he wants to go jail to drop the soap and he calls Oprah Winfrey a "b##ch" for turning on her own people on "Rap Up 2019."
Murda gives props to Giselda for making a hit album without mumble rapping, then calls out NBA Youngboy for having herpes, disses Gunna for "snitching" and makes fun of Lizzo for showing her butt at the Lakers game.
Props to Uncle Murda, this is FIRE!