UK rapper Fredo being called gay after he stopped his male friend kissing him during a Live session.
If you were recently watching UK rapper Fredo's live session then you and everyone else saw that Fredo stopped his male friend from kissing him.  Now, we are NOT saying anything that wasn't seen on the Live session, but is Fredo gay? Continue on…
CelebNMusic247.com has the latest from Marvin William Bailey better known as UK rapper Fredo, a 25-year-old rapper, who is now being called gay.
In the video above you hear Fredo say while trying to remain calm on Live:
John John John…you can't do that…I'm on Live bro.
The man backs up (allegedly John) out of the frame and responds saying:
Yeah…rock on…
Ever since the almost kiss, Fredo has been under fire from people bullying him and harassing him because he likes the comfort of another man.
Here is what fans of his are telling him in the comment section:
Your man calling Fredo gay in the comments won't keep the same energy when you see him in public ?????

I bet all three of them lipsed before the picture

Gaydo

Here come the gay Fredo comments

Fredo trying to hide his boner…

Fruity guy

Fruity Freddy

Don't be kissing a man

Ok battttty boi

Fredo's the type of guy to say I'm not gay my boyfriend is.
Only two people out of thousands didn't care about his sexuality if he is gay or straight
One said:
The homophobia in these comments is disgusting ?, y'all really should be ashamed of yourselves.
Another said:
Yo Fredo well done on another successful release I hope you continue to reserve your blessings from God nothing but up from here bro ..on another note to everyone throwing shade I hope you find your place on this world instead of writing hateful messages.
Celebnmusic247.com's thoughts:
Let's put it like this, if Fredo is gay, so be it, it is his life, his choice, his sexuality, and he has to live in his skin.
If you are a fan of his, still support him. Fredo's music is great, and who cares who he sleeps with. People need to calm down about people sexuality, it's 2019 and there are more important things to worry about.
Even back in 2018, he seemed uninterested: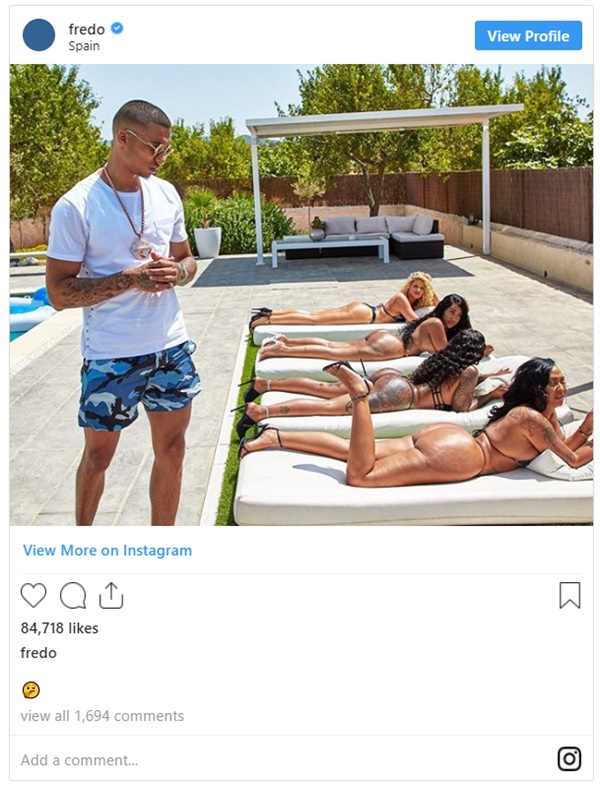 Despite the speculation and gay rumors, Birmingham England rapper Mist dropped new music – "So High" feat. Fredo:
Check out more photos of Fredo and his "friend" John: