It seems it time to start pointing the finger, since Tyrese Gibson blames outburst on anti-depression medication! Some people never learn and never change.
Just when we felt for Tyrese Gibson he proves once again, he is still the same entitled self-centered person he was years ago. Read on to see what the Fast and Furious co-star is saying…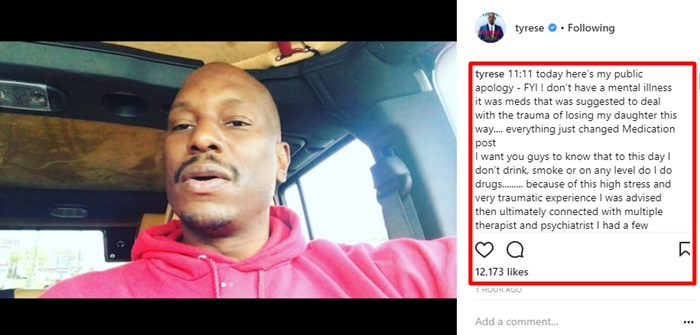 CelebNMusic247.com knows Tyrese Gibson all too well, and after seeing this poor excuse, we can tell that he will NEVER change.
Tyrese Gibson may not drink or smoke, but that doesn't mean that he's not a entitled self-centered person. Gibson is now using a poor excuse instead of owning up to his wrongs. Isn't that the same thing his ex-wife Norma Gibson was trying to say in court? Yes, it sounded like a money grab on her part, but she knows he's entitled, which is one of the ugliest things about some people. It's very unattractive, and whats worse it that most entitled people think its confidence. NO, its insecurity!
FRAUD ALERT! Tyrese Told A $5 Million Dollar Lie
If you recall over the past weeks Tyrese repeatedly lashed out at co-star DWAYNE 'THE ROCK' JOHNSON on Instagram. Well he is blaming an anti-depression drug for his recent online meltdowns. No one twisted his arm to take the medication!
Tyrese Threatens To Bow Out of Fast and Furious 9
On Saturday Tyrese shared a picture of the drug Rexulti and writing:
"11:11 today here's my public apology – FYI ! don't have a mental illness it was meds that was suggested to deal with the trauma of losing my daughter this way…. everything just changed Medication post.  I want you guys to know that to this day I don't drink, smoke or on any level do I do drugs……… because of this high stress and very traumatic experience I was advised then ultimately connected with multiple therapist and psychiatrist I had a few private meetings and this particular drug that was suggested although maybe helpful to others had an adverse effect on me and this is the reason I had a complete meltdown online – I'm in the clear now, this is being flushed out of my system and I'm already to get back at 100% – please don't chalk this up as "oversharing" a lot of people were effected by what these meds did to me over these last 2 months and this is my public apology a few I will make personally I'm so very sorry guys – please guys just know again this is not the Singer, actor this is Shayla's father……….. This will NOT compromise my case…. This is transparency and honesty and more of a suggestion, please seek professional opinions when it comes to drugs especially psychiatric meds. We all need to be still and preset in the Lord and he will deal with your fights and reality". Praying for you guys, and Pray for me and my family ! Love You TYRESE."

"Romans 12:2 – Do not conform to the pattern of this world, but be transformed by the renewing of your mind. Then you will be able to test and approve what God's will is—his good, pleasing and perfect will."
Tyrese Meltdown: 'What More Do You Want From Me-e-e-e!"
Yeah, we are hearing "blah blah blah…"
Watch the poor excuse as he tries to redeem himself of the nonsense he did over the past weeks. SMH: