Twitter Trolls Try To Cancel Big Sean Over 'IDFWU' Naya Rivera's Death!
Back in 2013, rapper Big Sean and Glee star Naya Rivera began dating after they meant through DMs. Later the pair got engaged in October, and their relationship came to a GRINDING HALT in April 2014. It was RUMORED at the time Sean had been cheating on Rivera. He denied all allegations. Big Sean said at that time, the relationship dissolved because of constant arguing and disagreements.
Fast forward to now, Naya Rivera went missing last Wednesday at Lake Piru. After five days of searching her body was found. She drowned in the lake but was able to save her son in her final moments.
Now, Twitter is trying to cancel Big Sean for something that has nothing to do with Naya's death. That is part of her history of her life. She and Big Sean are yesterday's news, but Twitter Trolls are trying to judge the rapper for a song he did about the couple's turbulent relationship. Read on…
CelebNMusic247.com report that back in the day Big Sean dropped the DJ Mustard-produced track "IDFWU" in September of 2014, only 5 months after the pair ended their engagement.
Following the release of "IDFWU" speculation began to grow that the track was about Naya Rivera.
He later confirmed that there was one part of the song in particular that he wrote about the actress, but the song didn't come from a bitter place.
Sean said back in 2014:
I wrote the last verse and [the line] 'and every day I wake up celebrating sh*t, why? 'Cause I just dodged a bullet from a crazy b*tch.'
With that said, Twitter Trolls are now attacking Big Sean over a song he wrote six years ago about a relationship he was in with Naya Rivera.
Sean and Naya's relationship didn't end well because it was toxic for each of them.
They were in a relationship, no one else was part of their coupling. However, fans in mourning of Naya Rivera's tragic death are lashing out at Big Sean for making the song about the actress.
He didn't know she was going to drown in a lake six years into her future.
Thankfully Big Sean fans are standing by his side:

One fan explains it's NOT Big Sean's fault that she died: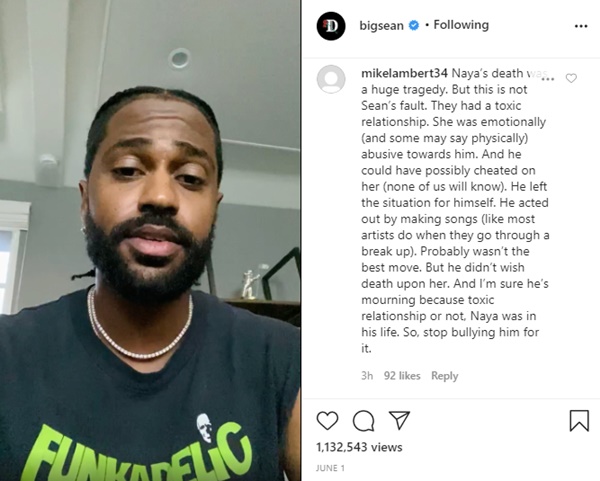 Nother fan pleads with Sean to say something to shut everyone up.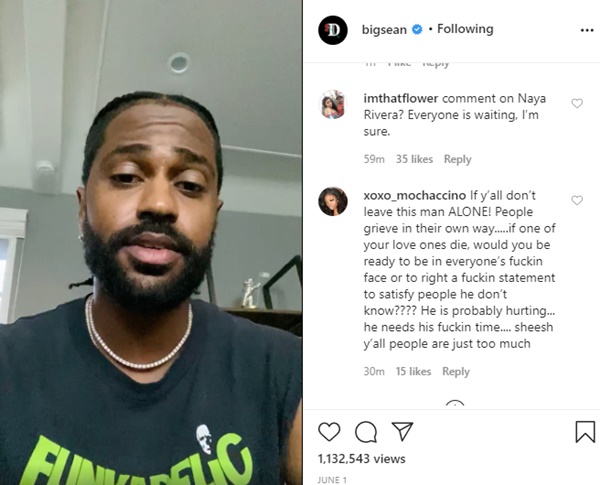 Twitter Trolls NEED to STOP lashing out at Big Sean because Naya didn't wear her life vest in Lake Piru. She made a conscious choice and it was the wrong one. She should have worn the vest because she'd be alive today if she had. Has anyone thought of that?
Big Sean hasn't made a comment about the death of his ex-fiancé, but his current girlfriend.
However, Jhene Aiko, sent a R.I.P. message on Twitter in loving memory of the singer, actress, and mom.
#CelebnMusic247 #BigSean girlfriend #JheneAiko posts #RIP for @NayaRivera https://t.co/j1xtShFipf

— Celeb N Music 247 (@CNM24_7) July 14, 2020