Years after the death of Tupac Shakur, reports have evidence has slowly surfaced that Tupac's death was collateral damage, because Suge Knight was and has always been the target.
Now, the directors of the upcoming documentary "Tupac Assassination: Battle for Compton," are claiming that Marion Suge Knight has allegedly authenticated some volatile information. Read on…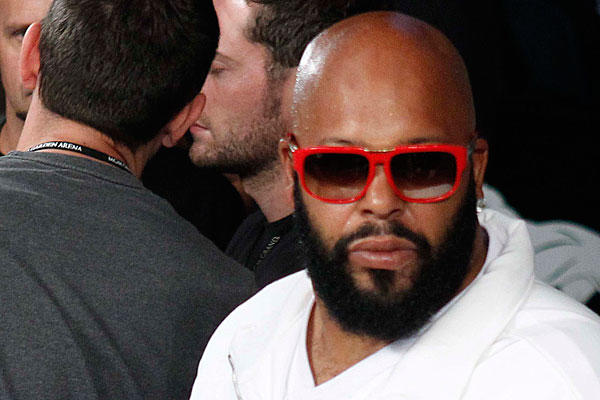 CelebNMusic247.com has learned via AHH that Suge's criminal lawyer has confirmed a new theory in the murder of rapper Tupac Shakur on the Las Vegas Strip in 1996, per reps for the film.
If you recall, Tupac and Suge Knight were riding in a black BMW in Las Vegas, Nevada, on September 7, 1996. Moments later at the intersection of Flamingo and Koval the BMW was sprayed with gunshots at a stoplight. Glass and shrapnel grazed Knight but Tupac was struck four times and eventually died from his wounds on September 13.
Another scary fact is that Tupac died on Friday the 13th, 1996 from internal bleeding in the hospital. That day has two demonic things about the day. The first is Friday the 13, a huge day for horror fans. The second is that if you flip the 9's it becomes 666.
In February it was reported that the black BMW 750IL that Tupac Shakur rode in before he died, was sold by an auction house for $1.5 million. The restored black sedan still features a few bullet holes.
Suge has remained radio silent since the incident, refusing to tell authorities what he saw or who he thinks is responsible.

Suge has suggested that he was "taken away from the money" because of a hostile takeover attempt of Death Row Records, which was worth almost $500 million at the time.

The label was forced into bankruptcy in 2006, after Lydia Harris, the wife of incarcerated drug boss Michael "Harry-O" Harris won a massive claim against Death Row.

The Harris' maintained it was their $1 million that launched Death Row Records, and that they were cheated out of millions in royalties. Mrs. Harris maintained she was cut out of Death Row by Suge and his attorney David Kenner. She filed a lawsuit against Death Row in 2002. Harris won scored a $107 million judgment against the label, which was ultimately forced into bankruptcy.
Lydia Harris is best known as the "REAL" Cookie Lyons!
In a 2015, Lydia told Vanity Fair:
"I really see my own life [in Cookie's]"
It was also said that history has painted Lydia as a footnote—"that's the woman who sued Suge Knight," at best. But now Lydia (who was the CEO of Lifestyle Records) wants to be better remembered. Lydia Harris, the Death Row co-investor and shrewd businesswoman.
Lydia Harris' husband, Michael "Harry-O" Harris, claims he was one of the first to bankroll Death Row Records, the legendary—and legendarily doomed—West Coast label that launched the careers of greats like Snoop Dogg and Tupac Shakur.
But how was Death Row Records started?
What people might not know is that Suge should thank Vanilla Ice, after Knight allegedly threatened Ice's life if he signs over publishing rights. If you don't recall, Suge allegedly hung Ice over a balcony to convince him to sign over his publishing rights. The rights were worth millions, Suge used that money to fund his upstart label, Death Row Records.
Vanilla Ice set the record straight to StreetHop in 2011:
"I had to defend it nine million times, but he never took me to the balcony, threatened to hang me over, or anything. Rap music is gangster, it's been gangster from the beginning. Yes, Suge Knight took some money from me, and he did take me to the balcony, explained it to me. He was nice to me … … [people think] I'm so bitter about it—I never went to the police, I never did anything like that. I knew better … [But] it's funny how this story has evolved and been polished up and changed around to make him a monster and everything— hell, I'm still friends with Suge Knight … I look at it like I've invested in some of the greatest hip-hop music in the world."
Death Row Records was founded on two sources of income:
Basically, court-ordered payments from Vanilla Ice to Mario "Chocolate" Johnson, a friend of Suge Knight who helped ghostwrite "Ice, Ice Baby," and a $1.5 million investment from a man named Michael Harris, also known as Harry-O. Harris is the same man that Suge claims was behind the hit in Las Vegas, which caused the death of Tupac, but Suge was the target all along.

If you add it up, Vanilla Ice publishing gave Suge $9 million to Harry-O's $1.5 million investment.
Did they take out Suge's number one artist, Tupac, in an attempt of a hostile takeover?
Some might say, yes. All Hip Hop reports:
Well, in 2008, Death Row Records was forced into bankruptcy. The label was sold off for $25 million to Global Music Group, a company in Canada. Since then, GMG liquefied Death Row's assets by auctioning them off or reselling them. The bankruptcy screwed Death Row Artist millions.

Directors of "Tupac Assassination: Battle for Compton," affirms their claims that Suge has been the intended target the whole time. In addition, director Richard "RJ" Bond and Michael Douglas Carlin echo Suge's claims that Tupac's death was collateral damage. The murder of Tupac was the first in a series of ongoing attempts on Knight's own life.

All Hip Hop also points out that Suge's criminal attorney Thaddeus Culpepper spoke to "Compton" co-director Michael Douglas Carlin and detective Russell Poole (before he died). They all allegedly confirmed a theory that there's an ongoing conspiracy, specifically to kill Suge.
Basically, the 1996 shooting was the first in multiple attempts on Suge Knight's life, which is the documentary's central argument. The documentary also points out a variety of efforts to kill the Death Row boss over the years.
This is perfect timing, since Suge Knight has been in jail for over 2 years awaiting trial. Suge and his attorneys have been trying to tell the court that the incident in the parking lot was yet another attempt on his life.