Just moments ago R&B star Trey Songz got fans up in arms when he posted a black and white picture of his hand cradling a newborn baby's foot.
The black and white picture that Trey Songz posted caused a firestorm of reactions from fans assuming that he is a new daddy. Read on to see the photo that has everyone asking is Trey Songz New Daddy???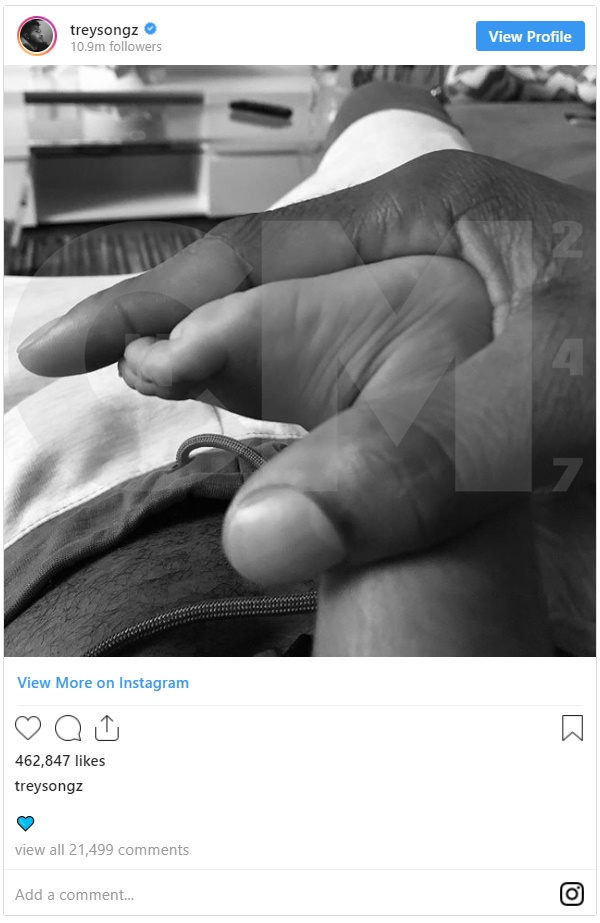 CelebNMusic247.com report that Trigga is a New Daddy rumors are taking over the Internet since he posted that black and white photo.
Fans have plenty of questions concerning if Trigga is indeed a new daddy. What do you think?
What we know about R&B star Trey Songz being a new daddy?
The only hint was that Trigger posted a blue heart to signify that he loves his baby boy. The blue was to let you know the baby he is cradling is a boy.
Social media trolls are making sure that this RUMOR gets out to the masses. It is a place were rumors and assumptions run rampant from the smallest things like Trigga being a first-time father.
Tremaine Aldon Neverson, better known as Songz has yet to respond to that claims of him being a new daddy.
The 34-year-old singer comments were practically flooded with an overwhelming combination of questions, congratulations, suspicions and more.
What was interesting is that singer Kehlani even jumped in the comment section to give her two cents about the matter.
She said:
Finally HAHAAAAA YES!!!
Here are some of the comments: