Tory Lanez Responds To Felony Assault Charge!
Rapper Tory Lanez is breaking his silence after being charged with multiple felonies in connection with the shooting of Megan Thee Stallion and the possibility of spending many years behind bars if convicted. Read on…
CelebnMusic247.com reports that the 'Say It' rapper took to Twitter to respond to the serious accusations made by the Los Angeles District Attorney.
The D.A. alleged that Tory Lanez inflicted great bodily injury, and if he's convicted, the rapper/singer faces up to 22 years and 8 months in prison.
Tory Lanez wants to make it clear that the 'truth' surrounding the incident still hasn't been shared and it will soon 'come to light.' He previously revealed some tea about that night with a release of new music. Tory also stated that Megan had framed him to gain success.
Lanez took to Twitter posting this message:
(Time) will (tell) … and the truth will come to the light … I have all faith in God to show that … love to all my fans and people that have stayed true to me & know my heart … a charge is not a conviction.
He continued:
If you have supported me or meg thru this, I genuinely appreciate u.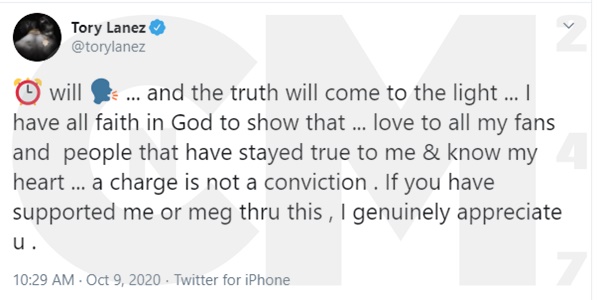 Now, the last part is very interesting. As you know, there were three people besides the driver in the SUV on that fateful night which included Troy, Megan, and one of her friends.
It's funny how it took Megan almost two months to admit she was shot.
Thee Stallion wrote at the time:
Yes, this n***a Tory shot me. You shot me, and you got your publicist and your people to these blogs lying and s**t, stop lying!
Initially, it was said she cut her feet on glass in his car. Not to mention that Tory, Megan, and Kylie Jenner were all spotted drunk in a pool hours before the alleged incident.
Megan has made it clear on her feelings via social media:
View this post on Instagram