If you love music, then a great place to see a lot of bands, enjoy great food, and experience a complete new atmosphere are some of our favorite music festivals.
Here is CelebNMusic247.com Music Festivals 2019 to attend. Continue on to find out which Top 12 Music Festivals 2019 To Attend…
Once again we have compiled our list of the Top 12 Music Festivals 2019 To Attend for those of you who want to enjoy great music.
The Top 12 Music Festivals 2019 To Attend are done on a large scale, but when it comes to attending them, these are the ones worth the money.
If you ask us, we would do VIP on all of these to get the full experience, the added area, bars, food choices and acustic stages not available to the GA. If you can't afford VIP but you still want to go, it is worth going just to check it out and experience a full service weekend of mulitple stages and bands.
The cool thing about music festivals is that you can change your surroundings at all times. If you go with friends and don't like a band they love, head to another stage. There is too much to do. It's an amusement park for music lovers.
Check out CelebNMusic247.com's Top 12 Music Festivals 2019 To Attend:
1 – Coachella Valley Music and Arts Festival – April 12 – 15 + 21 -23
Indio Desert, Indio California
Tickets are completely SOLD OUT – Pass Info Here…
Official Website Lineup
Coachella is a MUST, it is the one the kicks off the season for us. On Wednesday their lineup was set to be announced, but Kanye West pulled out at the last minute so the lineup has yet to be revealed.
The Indio desert becomes a fashionable hive of the coolest bands watched by trendy people and celebrities. Considered to be a bucket-list event for music press and fans alike. The festival became a 2 weekend event back in 2006.
View this post on Instagram
2 – Ultra Music Festival – Mar 29 – Mar 31 2019:
Miami, Florida (Historic Virginia Key Beach Park & Miami Marine Stadium)
$399.95 (GA); $1,499.95 (VIP)
Official Website Lineup
Ultra Music Festival is an annual outdoor electronic music festival that takes place during March in Miami, Florida, United States. The 2019 edition of the festival is scheduled for March 29th-31st.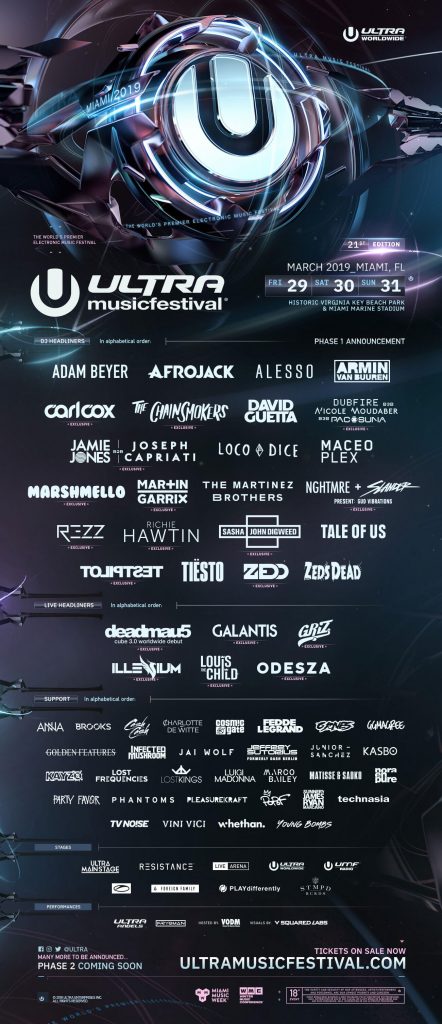 3 – Electric Daisy Carnival Las Vegas – May 18–20 2019:
Las Vegas, Nevada
$319 (GA); $779. (VIP)
Official Website Lineup
This fairytale carnival experience has also visited Puerto Rico, Mexico and the UK. Inviting attendees into an EDM wonderland of neon decor and walkabout performers, every year the event pulls in a record attendance with fans desperate to escape reality through electronic music.
4 – BottleRockNapa Music Festival – May 24 – 26 2019:
Napa, California (Northern California in wine country)
$359 (GA); Sold Out (VIP) Sold Out (Sky Deck) $1,599. (SPG + American Express VIP Viewing Suite) Sold Out (Platinum)
Official Website Lineup
BottleRock Napa Valley is an annual music festival in held at the Napa Valley Expo in Napa, California. The experience is 100% unique unlike the rest. It is all about the culinary delights, the wine and beer and great music all set in the heart of the wine country.
The lineup will be announced on January 7th, stay tuned…
5. The Governors Ball Music Festival – June 1-3 2018:
Randall's Island, New York
$305 (GA); $705 (VIP) Coming Soon (VIP Plus)
Official Website Lineup
Another event which proves the music loving potential of Randall's Island Park is Govenors Ball, an exciting and infectious mix of rock, hip-hop, electronic, pop and folk. Providing a variety of music and food tastes, whether you look to kick back and relax or surrender yourself to beats and riffs, Governors Ball has what you want.
6 – Bonnaroo Music and Arts Festival – Jun 13 – Jun 16 2019:
Manchester, Tennessee (Great Stage Park)
$279-$349 (GA); $825 (VIP)
Official Website Lineup
The Bonnaroo Music and Arts Festival is an annual four-day music festival developed and produced by Superfly Presents and AC Entertainment; since its first year, it has been held at what is now Great Stage Park on a 700-acre farm in Manchester, Tennessee. The 2019 edition of the festival goes down June 13th-16th.
7 – FireFly Music Festival – June 21 – 23 2019:
Dover, Delaware (The Woodlands)
$279 (GA); $699 (VIP)
Official Website  Lineup
We have to say FireFly has the best lineup for 2019 thus far with Panic At the Disco, Travis Scott + Post Malone headlining.  Firefly Music Festival is the East Cast's largest alt-rock, hip-hop and electronic music and camping festival, taking place annually in The Woodlands of Dover, Delaware. The Woodlands is the place where festival fans immerse themselves in amazing performances, enjoy a wide assortment of food selections, spend late nights with friends in the campgrounds, and make memories that last a lifetime.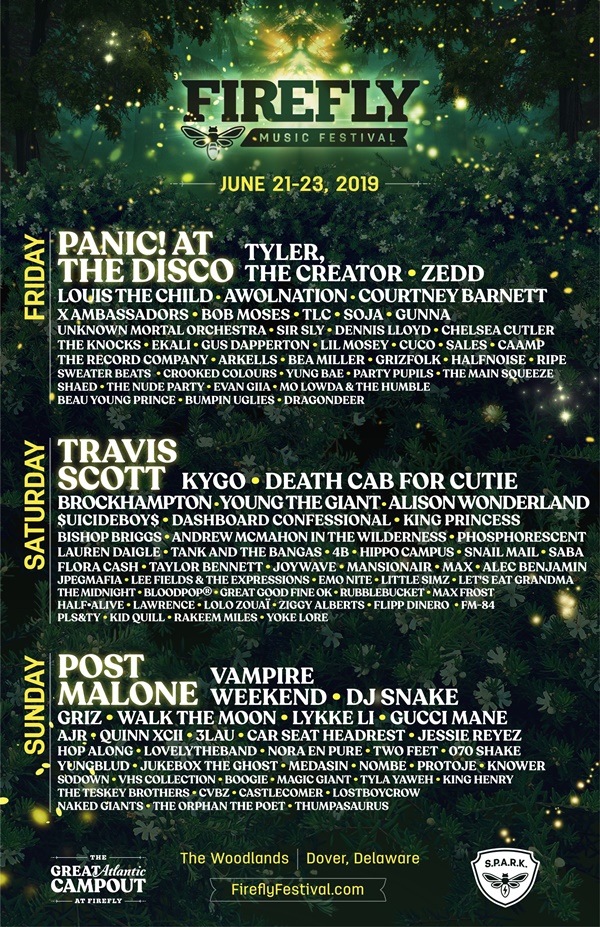 8 – Lollapalooza – August 1 – 4 August 2019:
Grant Park, Chicago
Ticket prices are not listed yet…
Official Website Lineup
A wonderful gathering of music, dance, comedy and craft booths, Lollapalooza is another multi-genre delight which also provides a platform for political and non-profit artists and groups. The festival is forever creating historical moments in many a musicians career firmly cementing it in the global hall of fame for festivals. The festival originally started in Los Angeles by Perry Ferrel of Jane's Addiction.
9 – KAABOO Del Mar – September 13 – 15, 2019:
San Diego/Del Mar, California
$259 (GA); $859 (VIP Hang 5) $3,199 (VIP Hang 10) $17,500 (Ultimate Hang)
Official Website Lineup
10 – Austin City Limits Music Festival – October 4 -6 + 11 – 13, 2019:
Austin, Texas at Zilker Park
$255 – $425 (GA); $1200 (VIP) $3,200 (Platinum)
Official Website Lineup
Austin City Limits is inspired by a concert series of the same name, the festival is an eight stage celebration of all things music, along with an art market, delicious food and drink, a dedicated family area and much more. Like Coachella ACL is a two weekend experience.
11 – Aftershock Music Festival – October 12-13, 2019:
Disocvery Park, Sacramento California
Ticket Not On Sale yet, but This will Sell Out
Official Website Lineup
California's biggest rock festival storms into Sacramento with a powerful lineup of rock and metal favorites. With alumni like Megadeth, Korn, Ozzy Osbourne, Nine Inch Nails, Godsmack, Alice in Chains, and System of a Down, this is the place to see genre legends in the western United States along with up-and-comers to the scene.
12 – Treasure Island Music Festival – October 12-13, 2019: (Unofficial)
Middle Harbor Shoreline Park, Oakland California
Ticket Not available yet
Official Website Lineup
Treasure Island Music Festival is an annual two-day music festival. Prior to 2018, the festival took place on Treasure Island, California, located in the San Francisco Bay. In 2018, the festival moved to Middle Harbor Shoreline Park, located in Oakland.