R&B singer Toni Braxton and her fiancé/common-law husband Bryan "Birdman" Williams are expecting a child together, via surrogate.
Read on to get the latest tea spill on Toni Braxton + Birdman expecting their first baby together…
CelebNMusic247.com reports that Toni Braxton + Birdman are having a baby together via Bryan "Birdman" Williams social media.
What we have learned about Toni Braxton + Birdman expecting their first baby together
One of Toni Braxton's friends revealed that the 51-year-old singer had some of her eggs frozen more than a decade ago.
Toni decided to have them defrosted, and fertilized using Birdman's sperm.
The friend explained:
It was Birdman's idea to have a baby. He was pressuring Toni, and finally, she said yes.
Birdman all but announced their plans a month ago on Instagram – when he told fans that they were trying to bring a "little one" into the world.
Birdman did a quick post/delete on Instagram about a month ago that read:
Y'all need to put some respeck on our f****** name. At the end of the day it's me and my wife and y'all n***** need to respec that s*** we just trying to work on our family ya heard trying to bring a lil one into the world.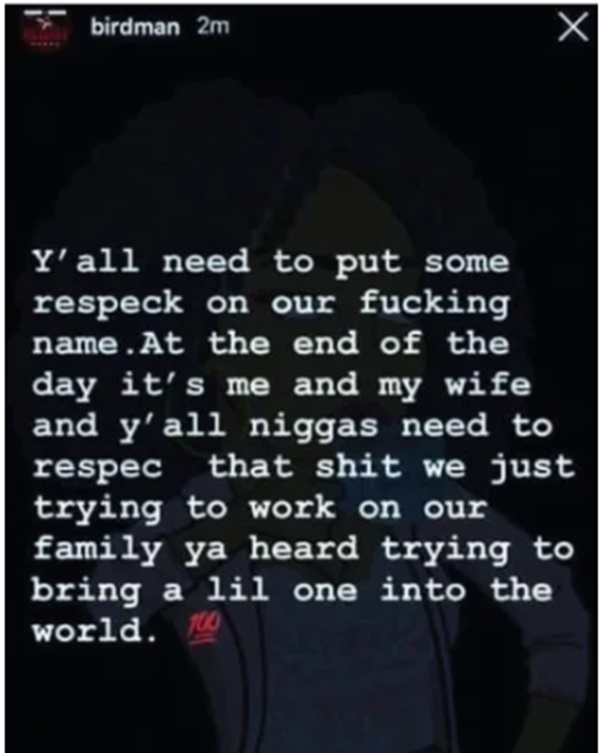 The cryptic post has caused some to believe that not only are the two expecting, but they have also been secretly married.
Toni recently opened up about how close she and Birdman came to just eloping instead of planning an entire wedding ceremony.
She told her sister, Tamar, on the latest episode of 'Braxton Family Values' that Birdman wanted to elope from the get-go.
Well, the baby is being carried by a surrogate. And it appears that Toni and Birdman are preparing to make the announcement on reality TV.
Bird took to social media to show he is a good father in a photo with his daughter.